Taking a cue from its Broadway peers, Florida Gulf Coast University's Theatre Department has gone green.
It all began in 2008 when "Wicked," a show starring a green-faced witch, sparked a nationwide movement to make the notoriously wasteful theatre industry more sustainable, says Anne Carncross, FGCU associate professor of theatre and technical director.
The Broadway Green Alliance (BGA) launched, motivating the theatre community to become more environmentally friendly. Enter the Green Captain program. By 2013, every Broadway and touring show was on board with a Green Captain in place.
That same year, the BGA started the College Green Captain program, and vibrant partnerships with colleges and universities have been forming ever since. It's a natural fit for FGCU, which defines itself as a sustainable university.
That's one of the elements that drew Carncross to the university. "I gravitated to FGCU 12 years ago because I wanted to live in a climate that allowed for yearlong outdoor activities," she says. "I was also drawn to the university's mission of environmental sustainability and service. I think that a university that is willing to put that kind of commitment in its missions and goals is progressive and the type of environment I want to work in."
She believes the same philosophy should extend to theatre.
"FGCU's Theatre department has naturally embraced the initiative as a means to further broaden the green philosophy that is already a critical part of the fabric of
the university," she says.
Carncross knows that it isn't a natural practice in the theatre world.
"I have grown up in theatre," she says. "I remember in graduate school filling up dumpsters with trash during strike (tear down) of a show and thinking there must be a way to reuse this stuff. It still has a useful life. I want to preserve the environment for my own enjoyment, but also for that of my children. If I can take that passion for the environment into my theatre space through the Green Captain program, the world will be a better place for it."
The Green Captains work as a team that consists of a faculty or staff member who provides continuity, leadership and institutional support for student Green Captains. At FGCU, that's Carncross. Currently, senior Elana Deutch is the Lead Green Captain and sophomore Joey Herrera completes the team. Deutch and Herrera alternate as show captains, often performing or serving as stage manager at the same time. Herrera was unavailable for an interview because he was serving as Green Captain while also performing in "Machinal."
What does the Green Captain do?
"The theatre is notorious for the use and waste of paper, lumber, fabric, electricity and many of the same things that we all use daily, such as batteries, lights, plastics and cleaning agents," Deutch says.
She heads backstage to point out bins in which are stored batteries and light bulbs that still have life left, as well as recharging stations for batteries and electronic devices. This may not seem like it would make a huge difference, but that's just the beginning. As stated in the Green Captain Toolkit, "Climate change is not impacted because of one large negative action, but from the cumulative effect of billions of small actions."
Lighting and scenery pose challenges for theatres attempting to go greener, but investments in more efficient lighting pay off environmentally and fiscally. Carncross and
Deutch point out that FGCU has updated the theatre's entire lighting and dimmer system.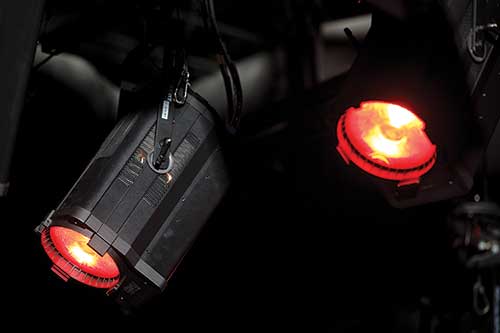 "Our previous lighting instruments cost 8 cents an hour each to run," Carncross says. "Our new LED instruments cost 2 cents an hour to run. We typically use 80 lights per show. So, by using our LEDs we are saving 75 percent in energy costs for each hour we use them. We can cut down on the number of instruments we use as well. So 75 percent would be a conservative estimate for energy saving."
Enhanced safety is another benefit.
"The LED lighting produces very little heat when in operation. This makes it easier for students to focus the lighting without worrying about burning their hands. Standard lighting instruments can cause first-degree burns if handled improperly," she says.
It also results in lower air conditioning costs, says Carncross, because the lights run cooler.
Every show uses scenery to create locations. Sets are built using a variety of materials and in the new, green world of theatre, the goal is to use materials that may be re-purposed and used in multiple shows.
That's a far cry from the days when everything was discarded.
"No scenery was saved after a show," Carncross recalls. "We would just fill dumpsters to the brim and have them hauled off to landfills. In graduate school my job was to facilitate the filling of the dumpsters so that every piece of wood we threw away had a spot."
These days, Deutch and Carncross say, they save between 45 percent and 90 percent of the materials from each show. It's not easy to do, especially considering that you have to anticipate the needs of shows that could be a year or more in the future. Nonetheless, it's worth the effort and given the FGCU philosophy, everyone embraces it.
"It's an easy sell," Deutch says.
COMING ATTRACTION:
THEATRE, MUSIC STUDENTS CREATE ORIGINAL WORKS
"Water Stories," a collection of short pieces about the beauty, power and danger of water, told through theatre, music and movement, will make its world premiere at FGCU in the fall.
It is a collaborative work by members of the FGCU theatre and music departments. It includes students in the Creating New Theatre course, taught by Associate Professor Gerritt VanderMeer, in collaboration with music theory and composition Assistant Professor Jason Bahr and students from the FGCU Composers Guild.
The project provides a showcase for undergraduate students as creative scholars and theatre artists who will have spent about 10 months researching and developing the works then rehearsing and performing them.
These works are particularly relevant to FGCU and Southwest Florida as the university prepares to launch The Water School and the region grapples with so many issues involving water. The stories will also explore the roles water plays in mythology, folklore and fairy tales and will incorporate a variety of theatrical ways in which water is represented on stage through lighting, music, dance, scenery, stagecraft and sound.
"Water Stories" will have its world premiere Dec. 8-11 as part of the FGCU TheatreLab's 2019-20 Mainstage Season. More information will be available once the new season is announced at fgcu.edu/cas/bsma.