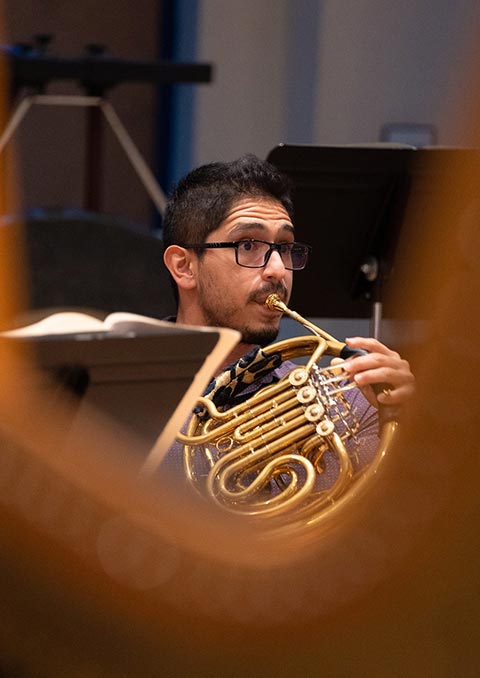 Orchestras are known for harmonizing instruments in symphony, but members of Florida Gulf Coast University's new ensemble, Philharmonia, are combining more than music.
They plan to show the audience a choreography with talented students and professionals sharing the stage in the spotlight of opportunity. This unique musical collaboration premieres April 20 at South Fort Myers High School in a free concert for the community to enjoy.
Every sheet-music stand has a different composition, but the performers in this orchestra all face and depend on Kyle Szabo, Ph.D., Philharmonia's director and organizer, because he holds the full-score copy of all the parts on one document.
FREE CONCERT
» Philharmonia's debut concert will take place 7:30 p.m. April 20 at South Fort Myers High School Auditorium, 14020 Plantation Road, Fort Myers. Admission is free.
» For more information about the concert or auditioning for the 2022-23 season, contact Kyle Szabo at [email protected] or 239-590-1490.
"As a single decisive leader, I have the global perspective," said Szabo, associate professor in the Bower School of Music & the Arts. "You have people of different technical levels, and that's its own challenge. Everyone has their piece, and even if they know what somebody else is doing, they aren't balanced unless I'm in the midst of it, encouraging one to listen to another to fit in, and intuit people's roles to them."
Rehearsals look just like the actual concert will. Szabo stands at the podium in front,  prepared to voice corrections that he says might mean to play faster, slower, louder or softer. The only difference from a live performance is that these practices take place in a rehearsal hall at the Bower School every Tuesday.
On this Tuesday night, the repertoire is a classical rhythm echoing wall to wall and floor to ceiling. To emphasize a melody, it takes an extended instrumental support system to produce a steady flow. In this instance, the horns get the most solo time to set the volume.
While the university provides a more private space, Philharmonia's goal is to attract attention across Southwest Florida. The size of the orchestra enables playing a certain kind of dramatic music. The growing network is an effort spread through recruitment as well as interest.
The number of musicians is about 60 and shifts depending on participation. There is a roughly even split of student and community musicians, and about a third of the outside artists are FGCU alumni — a tribute to their continued department and university involvement. The musicians play strings, woodwinds, brass and percussion. Some see Philharmonia as a chance to explore new instruments, while others stay dedicated to their concentration.
Take Ronald Dileo, who started playing the piano at age 3. If he had never decided to try the cello at 11, he wouldn't have ended up as the principal cellist for Philharmonia after graduating from Southeastern University in Lakeland and moving back to his hometown of Fort Myers.
"I did most of the recruiting in the community," Dileo said. "I was looking for a way to stay connected with the people who I've played gigs with in the past."
Those familiar with the FGCU music culture might recognize Joshua Snelling, a senior majoring in music performance with a viola concentration from St. Petersburg, because of the frequent public appearances he makes.  Unlike some students who participate in Philharmonia as part of actual coursework, Snelling is playing for service-learning hours.
"I'm already in the other [FGCU] symphony orchestra, and I sing, so it was hard trying to schedule this on top of everything," Snelling said. "At first, I couldn't really make the full commitment to register because I was already enrolled with the course number in my major. So (Szabo) organized it with some students to receive service-learning to participate with the orchestra. This isn't a binding contract, but it's still about making commitments and having professional courtesy."
Another way to get recognition is by demand. Iris Brown is a sophomore majoring in music performance with a harp concentration. She transferred from the Conservatory at Lynn University in Boca Raton after she was recruited to FGCU by Szabo.
"I didn't even have to audition to get my spot because all of the other students at FGCU who play harp take it as a secondary instrument," Brown said.
— Isabella Cummings is a junior majoring in journalism who's part of a student internship program coordinated by FGCU Marketing and Communications. Students interested in participating should contact Keith Gibson at [email protected]