Their new work attire is of course black. But underneath, FGCU alumni Laura Burkhart Laurie, Nicole Lynn Mirra and Joel J.C. Powless still proudly wear the colors – at least figuratively – of the school that helped them on their way to the most distinguished of titles.
Your Honor.
In the past three years, the trio have been appointed to judgeships at the circuit level – Powless in 2019 in his native southern Illinois, Laurie in 2020 in Palm Beach County and Mirra this past July in Lee County. All three had spent large portions or all of their legal careers as prosecutors.
It isn't known if the trio are the first FGCU graduates to hold judgeships.
But given the experience needed to ascend to the bench and their attendance at FGCU in the school's first decade, it's likely they are among the first to add the trusted civic duty to the noteworthy roll of professions already held by FGCU alumni.
"It's an honor beyond belief," said Mirra, who earned her bachelor's degree in liberal studies from FGCU in 2001 and her law degree from Western Michigan University. "It's a great responsibility. It's not one that I take lightly. You're being entrusted with the law to act fairly."
Strong foundation
The new judges all credit FGCU with providing important foundational elements needed to succeed in legal careers – both arguing before the bench and eventually being appointed to it.
Laurie, who earned her law degree from Nova Southeastern University after graduating from FGCU in 2003 with a degree in business management, pointed to a business law class at FGCU taught by now-retired Judge Jay Rosman with furthering her "love of the law."
Rosman also helped Laurie develop the connections that led to a job with a Fort Myers law firm while she was still in college, where she also was a founding member of what initially was a combined FGCU cheerleading and dance squad.
"All of the professors at FGCU showed a true love for their students and education," Laurie, who was raised in Arcadia, wrote in an email interview for this story. "I made so many wonderful friendships while at FGCU, including some that have lasted over 20 years. … It blows my mind actually when I go back how much it has grown on campus and around."
Mirra, who was raised in Rochester, New York, but found her way to FGCU after often visiting family in Cape Coral, said the study abroad program taught by FGCU founding professor Pamella Seay helped feed what had been her desire from a young age to become an attorney.
Seay, an attorney and instructor in international and constitutional law, took FGCU students to China, where they studied court proceedings and other societal systems.
"I absolutely enjoyed (it)," said Mirra, inspired from as young as 7 or 8 years old to follow family members into careers in the law and law enforcement.
"I always wanted to be an attorney," she said. "I enjoyed the law. I enjoyed being able to read case law and know my rights. I know what I can and can't do. I know where I stand."
Powless, who graduated magna cum laude from FGCU in 2006 with a degree in liberal studies before earning his law degree from St. Thomas University, said his focus on speech and theater classes at FGCU greatly aided with what he said often can be overlooked for aspiring attorneys.
"Any kind of trial attorney, especially when there's a jury involved, you've got to convince them," said Powless, who was raised in the rural farming town of Flora, Illinois, about two hours east of St. Louis, before following his older brother to Florida.
"You're basically telling this story. You want them to side with you. In a sense, you're performing and trying to win people over. Sometimes it's a gray area, and the judge has the discretion based on who he felt made the best argument."
Powless, who also earned a master's in tax law from the University of Miami, still wears his FGCU schooling with pride, literally and figuratively.
"FGCU helped my career tremendously," he said. "I've got a couple long-sleeve FGCU shirts in my closet that I break out every winter. Everyone always asks about it."
Diverse experience
All three judges arrived on the bench with prosecutorial experience – Mirra and Laurie for about 13 years each and Powless for about three years after spending four in private practice.
But they also bring either civil experience or, in Laurie's case, a rapid immersion in the arena, broadening their qualifications for judgeships that include significant civil responsibilities.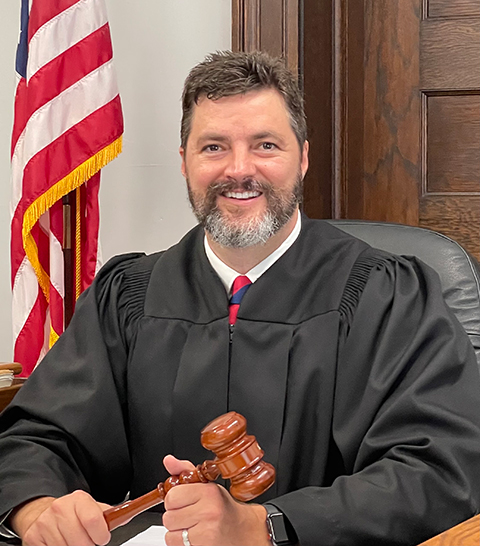 "(It) has been an interesting change from my prior career, but I am thoroughly enjoying it," wrote Laurie, who was assigned to the family and probate bench after most recently being chief of the traffic homicide and felony trial units as a prosecutor in Palm Beach County. "I hope I am able to help families through their conflicts and provide equal access to the courts.
"I did have people suggest that I would be a fair judge based on my history as a prosecutor. I have always said that I will be the type of judge that adheres to the black letter law and does not legislate from the bench. As in any career, you see good and bad, fair and unfair. I believe it is very important to follow our (United States) and (Florida) constitutions and adhere to the branches of government and to ensure that people have equal access to the courts."
Mirra, who was deputy chief overseeing the Collier County office for the last two years of her time in the 20th Judicial Circuit, left the position specifically to gain civil trial experience. She was corporate counsel for Allstate Insurance for two years prior to her recent appointment.
Mirra and Laurie were appointed by Florida Gov. Ron DeSantis.
"I have a respect for the law, the litigants and the parties that come before me," Mirra said. "They deserve a judge that's been on both sides (criminal and civil). You're a county court. You're a courtroom of the people. Everybody deserves a fair opportunity in the courtroom."
Powless was a municipal hearing officer, basically overseeing ordinance violations, in his hometown of only about 5,000 people in Flora before going into private practice, where he mostly practiced civil law in estate planning, wills and trusts.
He was elected state's attorney in Clay County in 2016 before being appointed by the Illinois Supreme Court as the county's resident circuit judge in 2019 when the sitting judge retired.
"It's very humbling," he said. "You just want to do the right thing. I love my community for trusting me enough to put me in this position. You don't want to let them down."