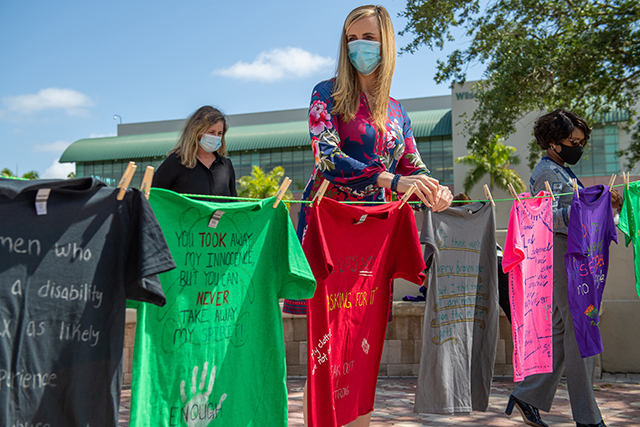 Some people express their feelings with certain colors. Others can't be defined by a single hue, reflecting a blend of the color spectrum.
Geared toward healing and shedding light, the Clothesline Project at Florida Gulf Coast University is a visual display of violence statistics with each T-shirt made by a survivor or someone who has lost a loved one to violence. Each color represents a different type of violence.
"I really admire the way we have approached this project, making it as broad and inclusive as possible," says FGCU senior Sthefania Duque.  "Not only do we focus on the local-level research, but we also look at the information on sexual assault at the international level, as well as trying to find information on the different demographics."
Sharing extensive research and historical context, Duque is a first-generation college student with a double major in sociology and philosophy. Duque's study concentration focuses on gender inequality and explores domestic violence from an anthropological and historical perspective.
"Every department works on different tasks, but I would say that we are all working towards the same goal: Giving a voice to those who no longer can or are too afraid to speak out, and actively speaking on this issue that continues to be put to the side," Duque says.
A collaborative group of women researchers contributes and leads the project at FGCU. Students, faculty and staff in the College of Arts & Sciences, the Office of Prevention and Wellness/ARISE, the Department of Social Sciences, the Department of Justice Studies and the Public Health Program are incorporating their research and sharing their own experiences.
The goal is to create and continue conversations around topics sometimes too difficult to speak of. The project kicked off at FGCU on April 1 — in honor of Sexual Assault Awareness Month — to bring attention to the lack of reporting of violence and abuse, and it will continue through the month.
This year's reflection bears a different tone, with elevated urgency. According to Mari DeWees, Ph.D., assistant professor in the Department of Social Sciences, the impact of the COVID-19 pandemic and prolonged isolation has added dimensions to situational incidents of violence.
DeWees' work focuses on identifying the root of the behavior that brings on violence rather than the situational causality of the circumstances.
"The Clothesline Project reflects the intersectionality between vast research that indicates a rise in violence during the pandemic and addresses violence that cuts across all genders and backgrounds," DeWees says.
A critical aspect of the project aims to break the silence surrounding abuse and violence, particularly against women, and to encourage expression. Through visual imagery the project documents, educates and raises awareness of the extent of ongoing abuse and violence.
Most importantly, the project is an opportunity for collective reflection, expression and healing through communication.
Academic Program Specialist Patricia Rice is building the multimedia photo galleries hosted on the FGCU Clothesline Project website incorporating T-shirt submissions, partnering with researchers from across the university.
"If you don't face it, if you don't talk about it and understand the implications of our life choices due to trauma, you're never going to heal," Rice says. "My big question throughout this project is what color would I choose? What color would you choose?"
Thoughtful and creative about presenting the stories through visual galleries and inviting community participation, Rice details how she conceptualized the best way to share the project with the community virtually during the pandemic. The first gallery honors survivors and their stories.  A second gallery memorializes those who did not survive the violence endured. The imagery is directly connected to forensic studies and research conducted here at the university, bridging justice and closure in cases of femicide in Southwest Florida.
"Women are not only fighting the battle against COVID-19, but a lot of women are also trying to stay alive while being stuck at home with their abusive partners," Duque shares from her recent research. "Unfortunately, the economic situations that countless families have faced during the COVID-19 pandemic makes these situations of domestic violence even worse."
The degree and type of violence may vary but the common thread that connects is the healing effect of communication, even if it's through untraditional channels.
The shirt colors represent the various forms of abuse and whether the victim survived the abuse they experienced. White represents women who died because of violence. Yellow or beige represents battered or assaulted women. Red, pink and orange are for survivors of rape and sexual assault. Blue and green represent survivors of incest and sexual abuse. Purple or lavender represents women attacked because of their sexual orientation. Black is for women attacked for political reasons.
"This project is a beautiful culmination of the inclusive research happening here at the university and the hope for healing, conversation and closure," DeWees says.
All are welcome to create a shirt for the Clothesline Project. Shirts can be designed by survivors, victims, loved ones and allies. FGCU recognizes that women are not the only survivors and victims of violence and invites all members of the university community to participate in this event by selecting a T-shirt color that resonates with them and best reflects their experience.
View the FGCU Clothesline Project Gallery and share your message here: FGCU Clothesline Project