Hannah Long lines up ingredients for her blueberry honey ale on a tabletop in the Sugden Hall kitchen: dry malt extract, Cascade hop pellets, brewer's yeast, priming sugar, natural blueberry flavoring. She's never brewed beer before, but the senior resort and hospitality administration major has a special interest in the recipe; her family owns Southern Hill Farms, a you-pick grower in Clermont, Florida, that also sells fruit to Big Storm Brewing Co. in Clearwater for some of their seasonal suds.
"I wanted to make this so I can compare the blueberry honey ale we're making with what they make with my family's blueberries," Long says. "Brewing beer is completely new to me, but my family has been farming all over the state for several generations. I've been around farming my whole life."
Understanding the connections between food products and where ingredients are grown and crafted is one of the goals of "Culture, Food & Spirits." The course is offered in a new food and beverage concentration in the School of Resort and Hospitality Management but is open to all majors. In addition to gaining hands-on experience making beer and wine, cured meats and cheese, students learn about regional artisanal food culture, gastronomic entrepreneurship, branding and marketing, fair trade, food deserts and tourism centered on food, among other topics.
"Agritourism is a huge trend in the hospitality industry," Long says. "When people travel, instead of theme parks and malls, they're going to wineries and farms looking for cultural experiences. It's interesting to see where food comes from. And the farm-to-table concept in restaurants and bars is really showcasing local farms on menus."
Clearly, this student has an appetite for the curriculum developed by chef James Fraser, who earned a culinary bachelor's degree and MBA at Johnson & Wales University and has certifications in cuisine, pastry and wine from Le Cordon Bleu, Paris. His international experience includes over two decades of culinary and agricultural research throughout Europe and many years working in established restaurants.
"The class is about discovery," Fraser says. "It's very cross-disciplinary. It's hospitality, it's entrepreneurship, agribusiness, science, marketing, sustainability and ethics When we're doing food and beverage production, it's not so much developing recipes as understanding the techniques and skill sets that are a lifetime commitment for artisan producers. They learn how to put a value on that expertise and cost and how to market it."
Tourism related to agriculture, cooking and wine has long been popular across Europe, where regional culinary traditions often go back centuries. Think of truffle hunting, olive oil-making and Chianti and Brunello tasting tours of Tuscany, for instance.  U.S. agritourism is enjoying a groundswell, with revenues more than tripling between 2012 and 2017 to $950 million, according to the latest U.S. Census of Agriculture.
"Countries and cultures like Spain, Italy and France depend on agritourism," Fraser says. "The initiative to drive up tourism-based agricultural experiences in the U.S. is one of the up-and-coming things. This class is a beginning platform to learn how that can work."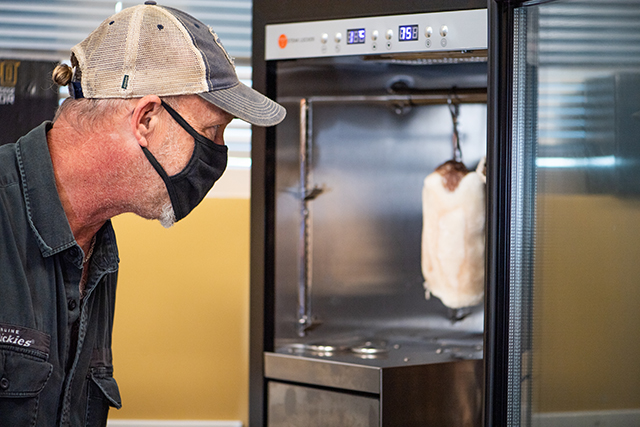 Hanging in a steak locker in the kitchen are some tasty examples Fraser and his students have "cooked up," so to speak: pork that is dry-curing in the tradition of Italian prosciutto; a salted beef loin aging into bresaola; an assortment of dried Italian sausages. Some of their gourmet goodies will be on display and offered in tastings during a showcase April 15.
In the meantime, they're making sure their experimental beers and wines are fermenting as they should. "It's like their baby – they have to nurture it," Fraser says.
The kits they use cover a lot of flavor profiles from pale ale to pear cider to peach apricot wine. Dylan Irigoyen, a senior resort and hospitality administration major, and his partners were fashioning a raspberry-dragon fruit merlot. Making beer and wine was his favorite part of the course; he's already an old hand at making sausage because his Cuban family makes it at home.
"I find a lot of this interesting," Irigoyen says. "I'm really interested in food and the culture behind it, where it comes from, what the standards are."
Olivia Stinson, a junior resort and hospitality administration major, checks on her honey brown ale. Carbon dioxide should be slowly bubbling through the airlock atop the fermenting bucket, but it doesn't appear to be happening. Was the yeast she used dead? Was there not enough sugar to feed the yeast? She and Fraser pull a sample and insert a sanitized hydrometer to take an original gravity reading. It checks out. Fermentation is occurring.
"There's a lot of science to it," Stinson says.
Kellen Davis, a senior professional golf management major, said the class has given him a new understanding of what goes into crafting beverages and other food products.
"I didn't realize how much goes into making beer and wine. Now I can really appreciate the process," he says. "To be a manager you really have to have knowledge of the food and beverage side of things."