Florida Gulf Coast University (FGCU) is the top public college or university in Florida for undergraduate entrepreneurship studies, according to The Princeton Review and Entrepreneur magazine. Coming in at No. 29 out of more than 300 schools, FGCU ranked higher than entrepreneurship undergraduate programs at DePaul University, Florida State University, the University of St. Thomas and Syracuse University, among others.
"We tried a new model with an independent School of Entrepreneurship, and it works!" said Sandra Kauanui, director of FGCU's Daveler & Kauanui School of Entrepreneurship. "This ranking by The Princeton Review and Entrepreneur magazine sets us apart from other entrepreneurship schools, especially many of those in Florida. It's nice to be recognized for the hard work we have all contributed to reaching our goal."
Since its founding four years ago, FGCU's entrepreneurship program has grown exponentially. Its mission is to infuse entrepreneurial spirit throughout the university with an interdisciplinary entrepreneurship major and minor. These are the fastest-growing degrees on campus with 2,793 students enrolled this past year in entrepreneurship classes.
"Yet again our Daveler & Kauanui School of Entrepreneurship continues to grow and excel," said FGCU President Mike Martin. "We are proud of all that is being accomplished and the recognition by The Princeton Review and Entrepreneur magazine allows many others to recognize this great FGCU program as well."
Beyond degrees, FGCU's School of Entrepreneurship is home to the highly successful Runway Program, which helps students develop a business model and a viable product while earning their degree. That effort is furthered by a recent collaboration with the Naples Accelerator to offer entrepreneurship training, which is open to FGCU alumni. Other features include the Mentor Program, through which faculty and outside business experts offer guidance and advice, and the Faculty Fellows Program, which integrates entrepreneurship into academic departments across campus. Additionally, the Daveler & Kauanui School of Entrepreneurship, in partnership with Veterans Florida, helps U.S. military veterans develop their business plans and obtain seed funding.
"We pride ourselves on setting our goals high and achieving them. Each faculty member we have hired has placed students first in their work. We listen to our students and take their feedback and incorporate it into our program. That approach has made all the difference for the Daveler & Kauanui School of Entrepreneurship," Kauanui added.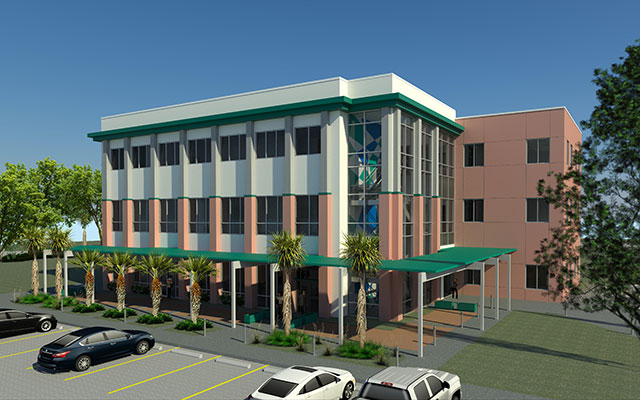 The ranking comes at an important time for FGCU. The university is building Lucas Hall, which will house the Daveler & Kauanui School of Entrepreneurship, the Small Business Development Center and the Regional Economic Research Institute. The 27,000-square-foot facility will have a business incubator, flexible meeting rooms and expanded faculty and office space. It will be a central location for advancing the culture of entrepreneurship, business development and market analysis that are essential to growing Southwest Florida's economy. It is slated to open in mid-2021.
In addition to its No. 29 placement in the "Top 50 Undergraduate Schools for Entrepreneurship Studies for 2021" ranking, FGCU is part of The Princeton Review's "2021 Best Colleges: Southeastern." The university is also No. 32 in the "Top 50 Green Colleges" list. Colleges and universities in the top 50 have "exemplary commitments to the environment and sustainability," according to a release from The Princeton Review.
The Princeton Review revealed the entrepreneurship ranking lists for 2021 on https://princetonreview.com/entrepreneur. Entrepreneur magazine posted the ranking lists on https://entrepreneur.com/topcolleges. The magazine will publish a feature article on the rankings in its December issue.
For more information about the FGCU Daveler & Kauanui School of Entrepreneurship, visit https://fgcu.edu/soe.