Anyone who has attended an FGCU sporting event knows Azul is a crowd favorite, and he gets plenty of love in the ASUN Conference as one of its multiple Best Mascot winners. But how does our favorite feathered one stack up against his mascot peers at other colleges and universities around the country?
Pretty darn good, it seems. As we celebrate the debut of the Azul Bench in the Alumni Legacy Plaza and the inspiration of new campus traditions, it's a perfect time to honor the status of the Green and Blue's beloved bird and take a look at college traditions around the country.
Consider the opinion of writer Sam Greszes, who recently ranked "The Greatest College Mascots of All Time" for the sports-themed website Yardbarker.  In all, Greszes rated what he considers the 22 best mascots in the U.S., and our beloved Azul ranks a very impressive No. 6. The pride of FGCU ranks higher — at least according to Greszes — than such famous mascots as Otto the Orange (Syracuse), Testudo (Maryland), Sparty (Michigan State), Sparky the Sun Devil (Arizona State), The Duck (Oregon) and Brutus Buckeye (Ohio State), among others.
About Azul, Greszes writes, "What could be a standard bird mascot is made so much better with the simple addition of silly shoes and a permanent, asymmetrical smirk. Well done, Florida Gulf Coast."
Here is the Yardbarker "Top 10 College Mascots of All Time":
Bucky Badger, University of Wisconsin
Rameses, University of North Carolina
Super Frog, Texas Christian
Albert and Alberta Gator, University of Florida
Knightro, University of Central Florida
Azul the Eagle, Florida Gulf Coast University
Otto the Orange, Syracuse
Testudo, Maryland
The Demon Deacon, Wake Forest
Rocky the Rocket, University of Toledo
College traditions: America's best, from dragons to donuts
At 22 years old, Florida Gulf Coast University is a relative babe in the higher-education woods, so campus traditions are still being established. Thanks to the student-run Programming Board Traditions Committee, events such as Beach Blast, Winter Wonderland, Casino Night and Spirit Day, among others, all help to rally and unite Eagles on campus for fun and fellowship.
To learn about some of the most famous U.S. campus traditions, FGCU360 scoured the Internet and — thanks largely to information gleaned from Business Insider, Best Colleges and other higher-education sources — came up with this list. Following are our Top 10, in no particular order. Spoiler: Nobody is swallowing goldfish these days.
Spirit Splash, The University of Central Florida
At the end of October since 1995, the entire UCF student body rushes into the campus Reflecting Pond in a group tidal wave to celebrate Homecoming Weekend. The event includes performances by the university band and cheerleaders, along with a massive rubber-duck float and toss. It all started almost 25 years ago when the student body president was tossed into the pond, and has evolved to the point of even once being named "Best Campus Tradition" by the National Association for Campus Activities.
Dragon Day, Cornell University
Sometime between 1897 and 1901, the Ithaca, New York school's architecture students got together and constructed a massive dragon that they paraded across campus like a rampaging monster. Feeling upstaged, Cornell's engineering students countered by designing a large phoenix and the March tradition unofficially became a Battle of the Giants. Students have also used Dragon Day to express political views. For instance, in 1934, students built a large beer stein instead of a dragon to celebrate the end of Prohibition, and in 1968, they painted the dragon black to protest the Vietnam War.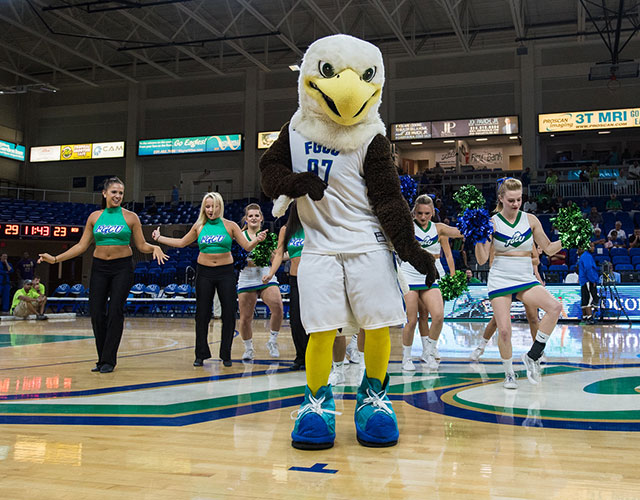 Krispy Kreme Challenge, North Carolina State
In an intriguing conflict between aerobic exercise and gut-building glazed dough, students embark on a 2.5-mile run from campus to the nearest Krispy Kreme location, then run back in less than one hour. Oh yeah … you can only start the return run after wolfing down a dozen Krispy Kremes. There are no official stats on how many students "lose their donuts," so to speak, on the return run, but the numbers that do matter in this 15-year-old tradition are the funds raised for North Carolina Children's Hospital. The event has inspired similar races at other schools — including Florida State — but NC State's is the original.
Scavenger Hunt, The University of Chicago
For four May days culminating on Mother's Day, this epic contest takes students on a 2,000-mile road trip from campus in search of 300 goofy items to collect. The list typically includes many strange or impossible tasks. Some items required in past scavenger hunts include a live elephant, a Stradivarius violin and a periodic coffee table. Also featuring a huge community blood drive, the event was listed in the Guinness Book of Records as the world's largest scavenger hunt from 2011 to 2014.
Great Midwest Trivia Contest, Lawrence University
Knowing a lot of useless facts is one thing. Being able to retrieve them from one's brain for 50 consecutive hours starting at 10 p.m. on a Friday takes trivial knowledge to a whole other level. This extraordinary challenge that has been going on the last weekend in January at this Appleton, Wisconsin college for more than 50 years is billed as the "world's longest-running trivia contest" because the first question of each new year's challenge is a question from the previous year.
THON Weekend, Penn State
The 1969 film "They Shoot Horses, Don't They?" was director Sydney Pollack's take on the dance marathons popular during the Great Depression, but it could have been a peek inside this huge February fundraiser. Students attempt to finish a 46-hour, no-sitting, no-sleeping dance marathon in the name of the Four Diamonds Fund to fight pediatric cancer. With more than 15,000 students now participating, the event raised more than $10 million in 2018 alone, and its $157 million raised for charity since 1973 makes it the largest student-run philanthropic enterprise in the world.
Dolphy Day, Le Moyne College
This tradition dating back to 1971 is our favorite version of "Skip Day": a day off classes for a prefinals, campus-wide party in the spring. What makes it unique is that students have no idea when the free day is going to be. The date is kept secret by the administration and The Wizard, a senior who is the only student in on the fun, and announced only when it begins loudly at 2 a.m. with a big fireworks display. That kicks off a daylong celebration at this Syracuse, New York, college, where books and tablets give way to barbecues, lawn games, dancing to DJs, general partying and The Wizard's nomination of her or his successor for next year.
Rottblatt, Carleton College
What's the big deal about a student softball game, you ask? Well in the case of this Northfield, Minnesota school, Rottblatt is an annual marathon game in which one inning is played for each year of the school's existence. In FGCU's case, a 22-inning game might be long, but since Carleton opened in 1866, this spring, students played 153 consecutive innings. Just 20 students participated in the first Rottblatt, and now the event attracts around 1,500 students annually. It has also expanded beyond just a softball game to a huge, schoolwide celebration where students play Frisbee and other games. Oh yeah, one other thing  — players are supposed to have a beverage in their hands at all times.
The Little 500, Indiana University
Howdy Wilcox Jr., the executive director of the Indiana University Student Foundation, founded this bicycle race in 1951 based on the Indianapolis 500, which his father won in 1911. At the Little 500, student bike riders compete in teams of four and complete 200 laps. The event, which organizers dub "The World's Greatest College Weekend" and which plays a central role in the 1979 film "Breaking Away," attracts more than 25,000 fans each year. Since its beginning almost 70 years ago, the event has expanded to include a week of festivities, including a women's-only race and an alumni race. Proceeds from the Little 500 go to a scholarship fund for IU students, and the event has raised more than $1 million since its founding. During his 2008 presidential campaign, then-candidate Barack Obama made a surprise appearance at the Little 500.
Oozefest, State University of New York at Buffalo
Each year, SUNY Buffalo hosts one of the biggest mud volleyball tournaments in the country. The competition, known as Oozefest, attracts more than 1,500 players. It began in 1984 as a way for students to loosen up before finals, but it now welcomes faculty, alumni, corporate sponsors, friends and students from other schools. Before the tournament begins, the university brings in firetrucks to hose down dirt fields and create a large mud pit on the university's north campus. The organizers award trophies to the winners and also to the best-dressed players.
Campus superstitions put schools in a class by themselves
Going hand-in-hand with the great college traditions are campus superstitions carried through the years by succeeding classes of students. Following, in no particular order, are 10 campus superstitions that earn FGCU360's highest grades:
The Shoe Tree, Murray State University
Legend has it that couples who nail their shoes (one from each person) to a specific tree on this Kentucky campus will be "sole" mates who become true soulmates for life. The tradition began in the 1960s, and the school is now on its third tree. Unfortunately, the first two Shoe Trees were struck by lightning. Violent weather isn't romantic.
The Pegasus Seal, University of Central Florida
Students at UCF learn quickly that you do not step on the Pegasus Seal in the Student Union. Legend states that if you do, you won't graduate. The only time a student can safely set foot on the seal is after walking at graduation. We can also safely say that not stepping on the seal doesn't guarantee graduation. A little studying also is required.
Albino squirrels, University of Texas at Austin
Students constantly keep their eyes peeled for albino squirrels while walking around campus, because if you spot one of these rare creatures — actually white fox squirrels — the myth is that you will earn an "A" on your next exam. For college squirrel fans, we also know that Kent State University in Ohio features a colony of black squirrels, but no word on if spotting this color of squirrel means certain exam failure.
SICSIC, Bowling Green State University
On Oct. 6, 1946, six students were summoned to the office of the president of Bowling Green in the middle of the night to form a secret society.  SICSIC is the oldest active group on campus, and with only six members each year, the most exclusive. The goal of SICSIC is to be the Ohio school's spirit leaders. They show up at football games and most campus activities … or even right behind you to photobomb your selfie.
Sod Cemetery, Florida State University
When the Seminole football team wins at the University of Florida, or triumphs in a road game in which they were the underdog, it is the sacred responsibility of the team captains to bring back a slice of sod from the opponents' field. The pieces of sod are then laid to rest in the Sod Cemetery back on the Tallahassee campus, marked with commemorative plaques. Grass has never been more popular on a college campus.
The Long Walk, The Ohio State University
The ceremonial dotting of the "i" in Ohio by a senior member of the Buckeye marching band during halftime at home football games is perhaps the most famous OSU tradition. But the most bonding one is the quarter-mile stroll down the center of The Oval — the campus' circular main quad — by lovers who want to get engaged. The only rules: No one can cross the lovers' path during The Long Walk, and the bells in Orton Tower must be ringing.
Lucky Disco Trays, Hendrix College
This Arkansas school doesn't like to waste things, and that's why it has integrated its original cafeteria trays from the 1960s – with a glittery finish that sparkles, hence the "disco" tag – into its newer, more neutral-colored trays. Legend has it that any student who draws one of the sparkling Disco Trays from the cafeteria stack will be blessed with good fortune. We aren't quite sure if that lucky student also is empowered to bust vintage Travolta dance moves under a flashing ball.
Zombie Monkeys, Reed College
Legend has it that a mad professor working in an underground laboratory created a strain of mutant albino monkeys that were eventually freed by an animal-rights group. The rogue monkeys supposedly roam the canyon next to the Oregon school at night. Sounds like smaller, cuter versions of the mythical skunk ape that reputedly stalks the Florida Everglades.
The Healy Howl, Georgetown University
When the devilish horror classic "The Exorcist" was released in 1973, Georgetown University students in particular embraced it because many of the scenes were filmed on or near campus. It has since become tradition to screen the film on campus every Halloween night, timed to end just before the clock strikes midnight. At that time, students migrate to the campus cemetery and do a group howl at the moon. In this case, the devil really does make them do it.
Rub the Toe, Yale University
"The Toe" belongs to the on-campus statue of Theodore Dwight Woolsey, former Yale president and member of the class of 1820. During tours of the Connecticut Ivy League school, guides advise prospective students to rub the toe of Woolsey's shoe because it brings good luck. What the guides don't tell prospective students is that another rite of passage involving "The Toe" is that just prior to graduation, upperclassmen are said to urinate on it.