While exploring new countries and cultures, travelers don't just absorb history, taste exotic food and rub elbows with the locals. They also act as ambassadors of their own country abroad, bridging gaps in understanding that may stretch around the globe.
That "soft diplomacy" goes with the territory for Fulbright grant recipients like FGCU alumna Carolyne Mesa ('19, Communications and Philosophy), who spent 2021 in Central Asia teaching English and computer technology in rural areas of Uzbekistan.
"It's a way to give back and to tell people on the other side of the world what it means to be American, to put the U.S. in a positive light," Mesa says. "You're teaching English, but you're also establishing connections with the taxi driver and the person you buy produce from. We want to have great relationships with every country in the years to come, and Fulbright is an opportunity to assist with that global mission."
The Fulbright U.S. Student Program is the largest American exchange program offering opportunities for students and young professionals to undertake international graduate study, advanced research and teaching. The program awards about 2,000 grants annually in all fields of study and operates in more than 140 countries.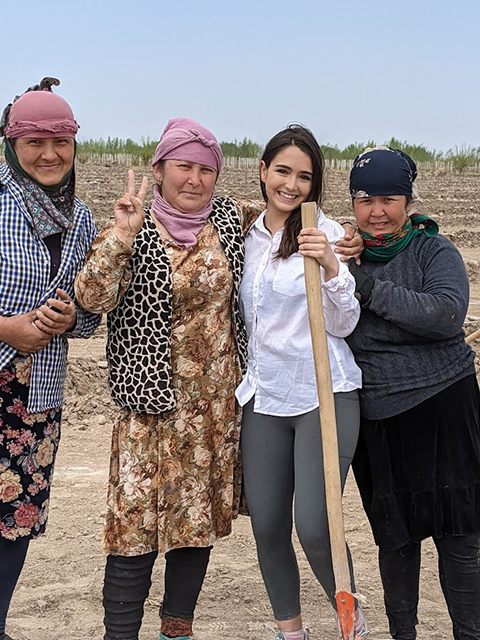 A magna cum laude graduate, Mesa was Florida Gulf Coast University's first Fulbright recipient since 2016. Based in Urgench, a city of about 150,000 that's a two-hour flight from the Uzbek capital of Tashkent, she trekked to outlying villages where many residents had never encountered a foreign traveler — let alone a Cuban-American one, or for that matter a woman living independently and working abroad, she says. Many of the local people she met tried to persuade her to live with their families rather than alone in her apartment.
"Every time I tell people I was in Uzbekistan, they say 'How did you do that alone?'" Mesa says. "I felt safer where I was living in Urgench than I do in many parts of the U.S. Uzbekistan is a very safe place. And the hospitality I was shown was unmatched. The average salary there is about $100 to $200 a month, but the people are very giving. The people I met would want to give me everything in their fridge."
Not that the experience didn't provide challenges. Mesa's original Fulbright term was planned to start in fall 2020, but the global pandemic delayed travel; public health protocols continued to affect the group programs she led once she finally landed in Tashkent in January 2021.
Another hurdle: Most of the residents in the area around Urgench where she worked spoke a different dialect than the Uzbek she learned in an intensive seven-week course prior to going abroad. She had to do a lot of "thinking on the fly." But she was no newbie to translating words and converting measures, having spent an undergraduate semester abroad in Italy and traveling throughout Europe. Uzbek was her fourth language.
"We're so much more adaptable than we give ourselves credit for," Mesa says. "Being in a completely different environment, you can adapt. Go in with an open mindset and try to learn from every interaction and experience."
As a Fulbright teacher, Mesa's interactions ranged from giving English lessons to schoolchildren to showing university students how to do research online to speaking at conferences about incorporating information technology in classrooms. Eagerness to learn was a common thread among those she encountered. It even extended to other aspects of culture, with Mesa learning traditional Uzbek dances and teaching the locals Latin moves in exchange.
"My younger students were very passionate about going to school," she recalls. "It was important for them to see someone strongly encourage them to go as far in school as they can because it can change their life."
As they get older, though, young Uzbek women face cultural expectations for marrying and childrearing in their 20s, she says. The region where Mesa worked was generally guided by strong societal norms and expectations.
"I shared a lot of opportunities available to them for internships and leadership programs in the capital, but many of my female students would say even if they got accepted their parents would not let them. They can be educated to a point as long as they keep up the social traditions.
"Sometimes I had to tiptoe on what I would say and how I said it so as not to offend anyone. I wanted to remain neutral and avoid stereotypes of Westerners. I was really conscious in how I came across to everyone at all times."
Spending most of her time in rural communities, Mesa also was conscious of the gap in technology resources. So she worked with the U.S. embassy to try to get funding to expand the availability of computers and tech training. It's a personal mission for the Honors College alum who was the first in her family to attend college. And it's one she plans to continue while pursuing a master's in artificial intelligence at the University of Georgia in Athens.
"I've always been fascinated by technology and always been very aware of the disparity that exists within technology – those who have access to it and those who don't. I have a passion to bridge that gap."
Mesa's experience exploring that passion in Uzbekistan left her feeling more empathetic, more connected to people and more sure of herself and her future. "I originally thought a Fulbright was out of reach for me, but it's not just for people who go to Harvard. They want people with all types of experiences."
The rewards of the Fulbright experience are more than worth the time and effort that go into the complex application process, which she went through twice before acceptance. She credits Terumi Rafferty-Osaki, director of FGCU's Office of Competitive Fellowships, with helping her navigate the system. When her grant was announced in 2020, Rafferty-Osaki said she had a "special combination of being an explorer, a dreamer, having resilience, and a great work ethic."
That ethic served Mesa well as she delved into the soul searching, writing and rewriting involved in trying to secure a coveted slot in the Fulbright program. "There's a lot of self-discovery that comes from sitting and revising a paper 16 to 18 times. It's a monumental hurdle, but you should see it as a gift to yourself even — if you don't get it on the first try. You're setting yourself up for an opportunity that helps you grow as a person and see things from a different perspective."