Jonathan Salas finds joy in teaching others tricky equations. "It's the spark in their eye, the way that I know that they get it," Salas said. "That's why I love teaching chemistry."
As a spring Florida Gulf Coast University graduate with a major in biology and minors in chemistry and education, Salas fielded multiple job offers as a public-school teacher in STEM prior to completing his degree. His first venture into his own classroom will be this fall when he'll start teaching chemistry at Cape Coral High School.
"Education in general is a very important topic — teaching is one of the most important things we can do — to pass down what we learn," he said.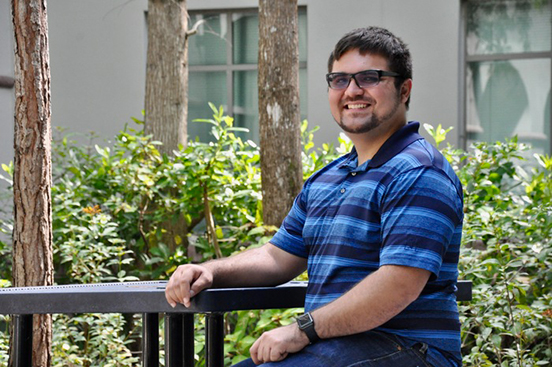 Salas considers himself a conduit to reach future generations. Describing his passion for "mastering concepts and helping others to do so as well," his enthusiasm is palpable. That excitement in explaining compound mechanisms or molecular formulas is the precise combination that the school system needs to ignite future science, technology, engineering and mathematics (STEM) graduates.
"The community benefits tremendously by placement of STEM majors into local schools as teachers," said Jennifer Jones, the director of FGCU's Center for Environment and Society (formerly known as the Center for Environmental & Sustainability Education). "Many K-12 teachers who teach science do not actually have science degrees — getting someone with Jonathan's background is a big win for education."
Salas has worked as a student assistant at the center for four years, learning a variety of methods of teaching about the environment. Jones says that in the time she's worked alongside Salas, she has seen him excel as a role model in the diversity of what he does and his commitment to teaching others.
Originally Salas expected to graduate in fall 2020, but once she learned he had an interest in teaching, Jones encouraged him to apply for the National Science Foundation (NSF) Robert Noyce Scholarship program, run through FGCU's Whitaker Center, changing the mechanics of his course trajectory to include teaching as a profession.
The program aims to introduce teachers who excel in the sciences and other STEM fields to bring that knowledge into the classroom. As one of five FGCU students to receive the Noyce scholarship this past academic year, he received $14,000 toward tuition and the tools to teach K-12 science classes upon graduation. The program, which has benefitted 16 FGCU scholars overall, situated Salas as a full-time certified teacher in Florida, and guaranteed him job placement.
"This is an Incredible story of opportunity to inspire future STEM majors," Jones said. "I consider it a great joy as a faculty member to mentor students outside of class – it's truly special. Jonathan's success on this path is a great accomplishment for me, for the center and for local schools."
Salas shared the challenges of navigating through the loss of his father when he was a sophomore at FGCU. "I just focused on my classes, and did the best I could," he said. Encountering difficulties in his own organic chemistry courses, Salas turned to his mentors and peers and chemistry tutor to help find the right mix. Once things started to click, he went on to become a chemistry tutor himself and discovered a deep love of teaching. Excelling in the classroom, he was invited to be the president of the Chemistry Honor Society. He also earned a scholarship from the Pop and Marj Kelly Scholarship fund to support his studies.
This year Salas worked closely with FGCU's Watershed Teacher Leadership Academy (WeTLAnd), which further prepared him to be a classroom teacher, discovering creative methods and incorporating elements from the environment into the lessons. His formula is simple, he says. "In order to master the concepts and build confidence, you need to do the equations over and over — find the order of operations, draw diagrams on the whiteboard, draw each step over and over." He also deploys certain techniques in connecting with students, focusing on repetition and project learning based tasks for hands-on experience. "The more engaged they are, the better the chances of learning the steps."
Although he wasn't always sure about teaching as a career, Salas had seen first-hand the impact an inspiring educator can make: Growing up in Broward County, his mother was also a teacher. He sees the benefits in giving back to instill that love of learning that he discovered for himself.
"I try to relate the themes to their personal lives – crack jokes to calm their nerves," he said. "Then, I rely on the whiteboard to talk through a lot of the mechanisms – to visualize the movement of the molecules until a basic understanding of the molecules becomes like two plus two."