When students think of cancer, many don't consider younger people such as themselves at risk. But cancer does not have age boundaries, and the FGCU Campus Cancer Campaign (CCC) was created to make the university community aware of that.
Lyndsay Rhodes, Ph.D., associate professor in the Department of Biological Sciences, presented the idea of the CCC to her "Cancer Biology" course in fall 2020. Rhodes said students took the idea and ran with it … and are still running with it.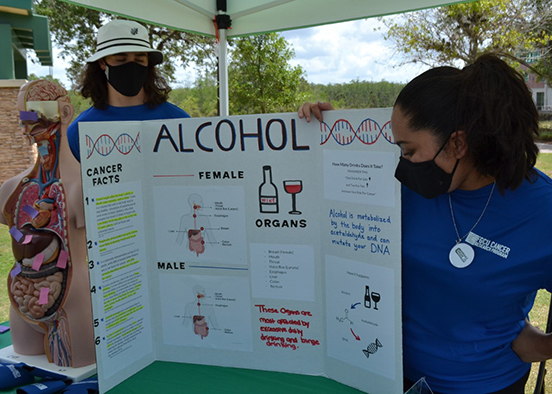 They designed a cancer-knowledge survey and got more than 160 responses. The results highlighted four areas in which college-aged adults needed more education: general cancer information, alcohol and HPV-related cancers, and UV-associated skin cancers.
Some of Rhodes' students continued working on the campaign in the spring. Alayna Ryan, Katherine Patterson and Logan Alles each have led specific cancer-topic groups in the spring Honors Service course.
Alles, a senior majoring in health science, got involved because of the broad impact cancer has. For Ryan and Patterson, cancer is personal after diagnoses of loved ones.
Ryan, who graduated this spring with a bachelor's degree in biochemistry, lost her grandmother to throat cancer, and her mom is a survivor of breast cancer. Patterson, a senior biology major, found out during the fall that a family member has pancreatic cancer.
"Working through this has given me more knowledge, and it's helped me get through what's going on with me," Patterson said.
As a career cancer biologist, Rhodes also is faculty advisor for the FGCU Cancer Research Program. The registered student organization teaches the community about cancer and its risk factors. Rhodes believes more needs to be done, and the CCC's cancer-knowledge survey proves it.
"Most people, when they think about cancer, they think about it as a disease for older people. That doesn't mean young adults don't get cancer, and that also doesn't mean that choices that we make now won't impact us down the road," Rhodes said. "We don't want people to be scared, but we want them to know there are things that they can do right now to reduce their cancer risks."
Seeing the need for more educational programming, Rhodes' students requested to continue working as an Honors course this spring. Rhodes was astonished by their commitment as this was the first-time students have asked her to continue a course to do more with the material.
Campaign comes to Great Lawn
With a plan in place after evaluating the survey results, the 17 CCC students focused on developing a two-day cancer-awareness event on the Great Lawn on March 31-April 1. The Veterans Pavilion was filled with displays and activities geared to educate participants in an engaging way. For example, the alcohol-related cancer tent featured a beer pong-like trivia game, teaching players how many drinks it takes to increase their cancer risk. Organized by Alles and his group, the exercise connected cancer facts with the popular college party game.
"We wanted to drill in the fact that one drink a day for girls or two drinks a day for guys will increase your risk of cancer over time," Alles said. "How that was represented in the game was through one throw for girls and two throws for guys. If they missed, then they would have to read off a cancer fact to reinforce the main message."
Despite attendance limited by COVID restrictions and the fact the event's second day was cut short by rain, the students said more than 50 people took part and offered overwhelmingly positive feedback. In fact, 86 percent of attendees surveyed said they will continue to follow the campaign on its social-media platforms.
"It means a lot that we were able to reach so many students … about the many possible cancer risk factors," Ryan said, adding that, "Amazingly, there are people in our group who are just as passionate as us and want to continue to educate our community and other communities."
During its early stages, the CCC received $500 from the Undergraduate Studies Office through an Innovative Assessment Design Award. Following its on-campus event, the group received Eagle X's Cobalt Award for their presentation on the CCC's progress. The Cobalt Award is given to a class deemed to have the best service-learning project.
"I would not be half as motivated right now without my skin-cancer group members," Patterson said. "If not for everyone's work, it would not be half as meaningful and impactful as it is now."
Building impactful relationships
Throughout the campaign's existence, CCC has emphasized building collaborative relationships with campus organizations and beyond. The campaign has partnered with organizations such as the Honors College, Student Health Services and the Florida Department of Health. The CCC is looking to expand through connections with more organizations, future campus events and social media.
"With collaborations with other organizations like Global Medical Brigades, we could have a much stronger tie because they're very health-minded," Alles said. "I don't just want to limit it there. I want us to be a name that other organizations like frats and sororities and even athletic clubs hear. If someone is going through cancer or has a loved one experiencing it, then we can share our knowledge and resources to help them."
You can follow the CCC Instagram, @FGCU_CCC, to participate in polls, get questions and answers about cancer, and get the latest news about the campaign and its members.
‑- Tyler Watkins is a senior journalism major at FGCU and Tampa resident. He writes for FGCU360.com as part of a student newswriting internship program coordinated by University Marketing & Communications. FGCU students interested in future internship semesters should write Keith Gibson at kgibso[email protected] and put "Internship" in the subject line.