For Stormie Pruskauer, not passing chemistry class was far from a failure.
"It was kind of a smack in the face, and that's where I realized forensic science wasn't completely my passion," she said.
Pruskauer knew she wanted to learn more about the human body when she started college. She'd considered becoming a dermatologist or a coroner, and thought forensic science would be a path toward medical school. However, her experience with chemistry gave her the push she needed to follow her true dream – entrepreneurship.
Before she started college in 2018, Pruskauer had already launched her own business, Stormie Seas. Stormie Seas is a 100% natural, eco-friendly skincare line designed to suit any skin care needs, especially for those with sensitive skin conditions such as rosacea and eczema. Her products are formulated with soothing ingredients such as oatmeal, lavender and nourishing coconut milk to fit many skincare needs. A variety of products including soaps, shampoos and scrubs give customers plenty of options to suit their needs.
"I realized that the sensitive skin industry was hugely neglected," Pruskauer said. "Oftentimes, a lot of [soap] bars are not compatible with sensitive skin types because of how many chemicals are put into our everyday products. I've always been an eco-conscious person, and I wanted to create a bar that was not only good for the environment but good for every kind of skin type out there."
The Daveler & Kauanui School of Entrepreneurship at FGCU opened up a world of opportunities for the aspiring business tycoon. Support from her Runway Program mentor, Scott Kelly, helped Pruskauer to continue to expand her business. She now sells her products in three retail stores in Southwest Florida, in addition to her online shop.
The Runway Program is a free business incubator that helps students and alumni to have access to several resources including two 1,300 square-foot shared workspaces, computers, cameras, audio equipment, design and development software and mentoring.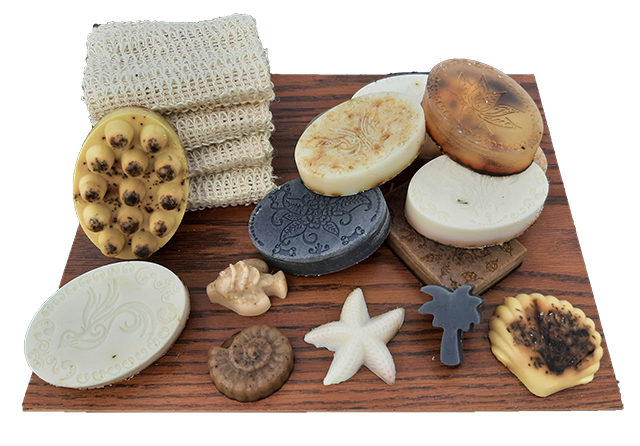 "I am most proud of how well she has learned and applied the process that we teach in the Runway Program," Kelly said. "It's easy for most people to see a failed test as a stopping point, but Stormie is able to see 'failures' as learning experiences that can help her to make necessary changes to her business and offerings. She has built an impressive business and it continues to get better because of her willingness and determination to work through the difficult problems to find functional solutions."
The program simulates Shark Tank, allowing participants to go through the entire entrepreneurial process from brainstorming business ideas to acquiring seed funding. Competitors can name their goal price for winnings, and the winner receives equity-free funding to start their business.
Pruskauer was granted $4,000 from the Runway Program her very first semester in the program. With the guidance of her mentors, her company has seen a 300% increase in gross sales from 2019 to 2020. Between 2019 and 2020, Stormie Seas had a 38% profit margin. All of this success comes from her one-woman show, working out of a studio in her home. Her story and her products are sparking the kind of interest that could boost her business even more: ABC7 spotlighted her in a "Cover Story," and she was featured in a Florida Weekly article about the entrepreneurship school.
Pruskauer's success doesn't stop there. In addition to being a full-time student, business owner, employee and a member of the Runway Program, she also is an intern for the Veterans Florida Entrepreneurship Program.
"I help veterans actually compete with me," Pruskauer said. "I mentor them and help them to understand the Lean Launch Startup. I really put into work what I'm learning at school, and I help them run through the same process that I follow, like building their websites and getting their legal entitlements."
The veteran's program has been active on FGCU's campus since spring 2016. The program offers free instruction in Lean Startup Methodology for honorably discharged veterans. The model helps aspiring business owners formulate a plan to have their products in the hands of consumers efficiently and effectively. In addition, being involved in the program helps veterans to be connected to local resources such as other business leaders, like Pruskauer.
Managing all of these endeavors is not an easy task. Many weeks for Pruskauer, it feels like there are not enough hours in the day to get it all done, but she still manages to run a successful company while being a dedicated student pursuing her entrepreneurship degree with a minor in marketing.
"I'm realizing that with working part time I'm able to slowly progress instead of getting 10 feet ahead and not being able to maintain how far ahead I get," Pruskauer said. "So, it's been a blessing in disguise being able to work so slowly because I'm able to manage the demand every year, instead of overwhelming myself. But I am so excited to graduate, hopefully at the end of the year. Then I can focus full time on my company and grow it to where I want it to be."
Though she continues to keep herself busy, her company is still growing, and she has no intentions to stop. Pruskauer dreams of one day having her products available in hotels, and with her drive and motivation that dream is not far from her reach.
The wider that reach, the greater the impact her eco-friendly products will have environmentally. Even if consumers don't experience that particular positive outcome of her business, the Earth will benefit while they achieve the tangible results of better skin, she said.
"One thing that people forget is that when you are an eco-friendly company, the consumer doesn't see that benefit," Pruskauer said. "They don't feel it. They feel the benefit from relieving their skin conditions. They feel the benefit from a moisturizing bar."
Pruskauer is just at the beginning of her future as an entrepreneur, and she is already making a difference for her customers and the Earth with Stormie Seas.
Student contributor Hannah Lee is a senior from Melbourne majoring in communication, with a concentration in public relations, and minoring in journalism.