As a forensic studies major, Amaiya Hudson has chosen a field that involves digging deep into criminal behavior and reaping evidence of illicit activity. Lately, though, she's been breaking new ground: poking around in soil, cultivating herbs and other greenery for harvest in a small patio garden at SoVi Dining Hall.
Her introduction to horticulture began last fall as a service-learning and research project that involved studying microgreens — the shoots of salad vegetables picked just after the first leaves have developed — and how they grow in Southwest Florida. But the 30 or so hours a week she volunteered at the garden yielded so much more for her.
"I hadn't really thought about gardening that much. I didn't really know what microgreens were," Hudson said. "It's really interesting seeing how everything is grown. I actually enjoyed it. I might go back and do it again."
Teaching students like Hudson about the origins of food and the principals of sustainable agriculture were part of the mission when the garden plan took root in 2018 as a collaboration among FGCU Campus Dining, Business Operations, and Environmental Health & Safety. But it's not only an educational model. The raised-bed containers produce fresh seasonings and garnishes for food served at SoVi and at catered campus events and also for food prepared in School of Resort & Hospitality Management classes.
Late one December morning, a SoVi cook stepped out onto the screened patio and asked Carol Kennedy for a handful of Cuban oregano for a Spanish dish she was preparing in the kitchen. A part-time Environmental Health & Safety staff member, Kennedy oversees garden operations — from building wooden growing containers and hydroponic towers to training volunteers on strict food-safety procedures. This isn't some casual community garden; a 24-page plan guides irrigation procedures, soil preparation, worker hygiene and other issues that are especially critical because food service is involved.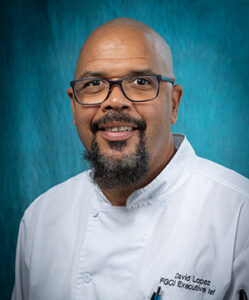 "One of the goals was getting the cafeteria chefs to recognize this is something really good. Herbs are more flavorful when they're fresh," Kennedy said. "Now they can't get enough of them."
Indeed, David Lopez, executive chef of FGCU Campus Dining, said cooks use the garden every day, carefully snipping cilantro stems, rosemary branches and lemongrass stalks as needed.
"We use chives for topping baked potatoes, Cuban oregano for Spanish dishes, sage for stuffing, basil in all the Italian dishes, parsley in chimichurri. It gives a lot of life to proteins," Lopez said. "One of the benefits is no chemicals or pesticides. The herbs are fresh and natural. They give so much flavor to food."
Environmental Sustainability Coordinator Kathleen Crawford appreciates the tasty results.
"As a frequent customer at SoVi Dining, I can attest to the flavor the fresh herbs add, and I am always so tickled to know what I am eating was grown just steps away," she said. "It is an amazing example of locally grown food using organic principles."
The SoVi Garden grew out of FGCU's Real Food Campus Commitment, which focuses on shifting university food budgets towards local and community-based, fair, ecologically sound and humane food sources, according to the SoVi Garden Food Safety Management Plan created in September 2018.
Located on a west-facing, 600-square-foot concrete-floored patio attached to the dining hall, it serves as a model for urban food production. Screening deters insects and birds from munching on the leafy greens, and a roof overhang shelters half the growing area. The garden is adjacent to a stormwater retention pond, and any water flowing from the raised planters is diverted via gutters into a sand, gravel and soil filtration system before entering the pond.
It is not officially USDA-certified organic, but organic practices are used in the garden. Production beds are filled with commercial organic soil and perlite, and commercial compost is the only fertilizer used. Commercial nutrient solutions are used in the hydroponic growing towers.
The majority of food production occurs in fall, winter and spring. In summer months "living mulch" crops such as cowpeas, sunhemp and hairy indigo are grown for soil fertility restoration.
"We have tried other produce besides herbs," Kennedy said. "We planted carrots and peppers the first year, but they all need more light. Baby leaf greens do well. The best produce is microgreens. They take less than two weeks from seed to harvest, but they're more labor intensive."
The crops grow in sub-irrigated planters (SIP) she built with the help of student volunteers. Plants draw moisture from reservoirs in the bottom of the planters. Water used in the hydroponic towers is supplied directly to the plant roots and does not come in contact with edible portions of plants. All growing structures are mobile so they can be relocated indoors if necessary for hurricanes or freezes.
"It's not a perfect setup, but part of this is teaching water conservation," said Kennedy, who teaches biology at Florida SouthWestern State College in Fort Myers and has managed community gardens for 20 years. "The system is good for saving moisture. This garden is a proof-of-concept idea. The thinking was, if it works can we do it in other spots on campus? Can we find community partners to support this?"
Students in the campus community certainly have. While many may not be aware of the not-so-secret garden outside SoVi, it's a popular destination for University Colloquium groups looking for projects. Amaiya Hudson, the forensic studies major, first heard about the garden at a service-learning fair.
"Sometimes we get students who want to work the whole semester," Kennedy said. "Some come for a one-day service-learning event and others do longer-term service-learning."
All volunteers are trained in food safety policies and practices to prevent the spread of human-borne pathogens. And, lest you ponder strolling through the garden to harvest some basil to whip up a pesto for your pasta, all visitors must be accompanied by staff.