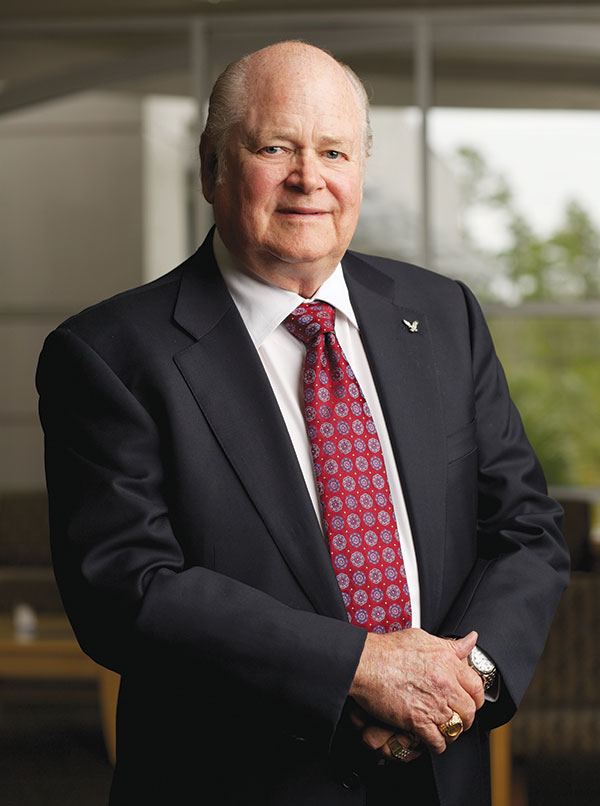 His name and his benevolence are indelibly etched into the history of Florida Gulf Coast University and the hearts of those who helped found it. And every one of the more than 38,000 students who have attended classes here know the name Ben Hill Griffin, III, if not the generous soul who played such a pivotal role in making FGCU what it is today.
From the founding of the university until his passing on July 25 in Frostproof, Florida, he was deeply involved with FGCU, which is immediately clear to anyone who visits.
"I've always liked that everyone coming to our campus comes in from Ben Hill Griffin Parkway," said Susan Evans, FGCU vice president and chief of staff who worked with him from the university's earliest days. "It's fitting for the man who paved the way for FGCU."
And pave the way he did. The third-generation citrus grower, cattle rancher and successful businessman gave the land to the state on which FGCU is built.
In a 2007 video produced for the university's 10th anniversary, Griffin recalled, "We looked at all of our properties and said 'What is the best that we could offer the state? Let's give them the lake and the additional acreage they need and that's how we came up with the 760 acres that we gifted to the state."
Roy McTarnaghan, FGCU's founding president, said, "Ben Hill was very anxious to leave his mark on education as his father (Ben Hill Griffin, Jr.) was so supportive of the University of Florida. He kept putting in more of his resources – money for endowed chairs, money for land use planning after the site was accepted. Working with Ben Hill Griffin and (his colleague and fellow FGCU benefactor) Bernie Lester were very exciting times."
When the fledgling school began an athletics program with just a modest gym, he donated $5 million to help construct what became Alico Arena.
"We could never have achieved this level of success without that gift to Alico Arena," said Stanley "Butch" Perchan, a development officer who helped bring in that gift and still raises money for Athletics. "It really set the tone for other people who wanted to be involved here."
Griffin funded three eminent scholars in the Lutgert College of Business and countless scholarships, including what is believed to be the only football scholarship the school has (given in the spirit of encouraging the university to start a football team, something he steadfastly lobbied for throughout the years).
He gave generously of his time as well, serving on the FGCU Foundation, where he was a Foundation Fellow at the time of his death. In appreciation of his generosity and support, the university awarded him a Doctorate of Humane Letters in 2002, the first such honorary degree bestowed by FGCU.
"In the 30 years I've known Ben Hill, he has received well-deserved public recognition for his generosity and accomplishments, but he also quietly helped many people behind the scenes," Evans said.
W. Bernard Lester, who worked alongside Griffin and his father for many years at Alico, Inc. and who is also a longtime FGCU benefactor and Foundation Fellow, confirmed that much of the good the Griffins did occurred without fanfare.
"They enjoyed sharing what they had been able to accumulate with other people, particularly with people who needed help," he said. "If the Griffins hadn't come along, times would have been tough for many individuals and groups."
But it was FGCU to which Griffin gave his greatest support, starting with the land and the arena, and continuing until just shortly before his death when he contributed to a scholarship fund the FGCU Foundation Board of Directors started for students who have been economically affected by the coronavirus pandemic, according to Kitty Green, vice president for Advancement and executive director of the FGCU Foundation.
"It feels like the end of an era," she said. President Mike Martin called Griffin "a longstanding friend. He was kind, loyal and always supportive."
That friendship began in 1997, when Martin was about to start work as vice president of the Institute of Food and Agricultural Sciences (IFAS) at the University of Florida.
Martin said he was told to go introduce himself to Griffin in his suite at halftime during a football game in Gainesville. He recalls knocking on the door, Griffin opening it, and introducing himself as the new vice president of IFAS.
"He didn't say a thing for what felt like 10 minutes," Martin said. "Then he said 'You weren't my first choice.' I said, 'My wife said the same thing.' He laughed and we struck up a friendship."
Two decades later, when FGCU was searching for its fourth president, Griffin called Martin. "'I hope you will consider being in the hunt,'" Martin recalls him saying. "I appreciated that."
And, while Griffin stayed on the sidelines during the search process, once Martin was selected, he received a call from his longtime friend.
Griffin said, "I understand you will be the next president. I want you to start a football team."
Although that didn't happen, they were able to start something else that was important to him: an agribusiness program in the Lutgert College of Business.
Martin likens Griffin to other great men who "stepped up and created higher education institutions, men like Thomas Jefferson who started the University of Virginia, and John Pillsbury who started the University of Minnesota.
"It took people with a certain amount of vision, knowing it would not begin to have payoffs until long after they were gone," Martin said. "It takes a special vision to say, 'I'm going to start something.' He got a chance to see how far this place had come and appreciated that there would be many more successes after he was gone. That's the definition of a visionary."
Lester spent a great deal of time with Griffin through the years, particularly the 18 years during which they worked together at Alico, Inc.
"To him the objective was to get things done and that was my attitude, too," he said. "Ben Hill achieved a lot but at the same time he shared a lot."
Griffin's nephew, Baxter Troutman, told the Lakeland Ledger that "Ben Hill had a big bark, but he had an even bigger heart."
Lester agreed. "The bark was because he expected people to do their job. Every now and then there had to be a bark. But there was much more coming from his heart."
Butch Perchan recalled that the late William C. Merwin, FGCU's second president, "used to say there were a number of angels that put FGCU together and Ben Hill Griffin is certainly on top of the angel list."
According to Evans, "As of Ben Hill's passing, we've awarded 42,700 FGCU degrees with generations more to come. What a legacy for Ben Hill's vision for a university in Southwest Florida and what he knew it would mean for students and their families."
In addition, he established scholarships at numerous other colleges and universities, and supported churches in Frostproof, the Boy Scouts and Girl Scouts and other organizations.
Griffin was born March 3, 1942, in Lake Wales to Ben Hill Griffin, Jr. and L. Frances Griffin. A lifetime resident of Frostproof, he began working in the citrus nursery at age 9, according to his biography in the Citrus Hall of Fame. He attended Frostproof High School, where he was voted president of his class each year.
His father gave him 100 shares of Alico Inc. stock when he graduated. By 2004, he owned 50 percent of the company of which he became president and chairman of the board. During that time, the company's assets hit an all-time high of $176.9 million.
He attended the University of Florida and earned his AA at Central Florida Community College. He worked his way up in the family business, eventually earning the title of president and COO of Ben Hill Griffin, Inc.
He was past chairman of the board and CEO of Alico, Inc. (1989-2004) and Orange-Co., Inc. (1991-1999).
His professional accolades include induction into the Florida Citrus Hall of Fame, the Florida Agriculture Hall of Fame, and the Frostproof High School Hall of Fame. He served on a wealth of boards, including the Florida Council of 100, Florida Legal Foundation, Inc., Florida Citrus Showcase Hall of Fame Selection Committee, Citrus Associates of the New York Cotton Exchange and many more.
He was preceded in death by his parents and his son, Brett Thomas Griffin. He is survived by his children, Kathryn "Kitty" Griffin Rogers (John L), Ben Hill Griffin, IV (Pia) and Candace "Candy" Griffin Denton (Andy); 12 grandchildren; one great granddaughter; and four sisters, their spouses and children. n