There's a reason collegians who participate in NCAA- and NAIA-sanctioned sports are known as student-athletes … not athlete-students. Florida Gulf Coast University gets that, from the top of the Eagles program in Ken Kavanagh, athletics director, down to the non-athlete students who help Athletics with day-to-day operations and facility maintenance.
Countless academicand athletic awards and honors earned by student-athletes and coaches prove that FGCU Athletics is as much a champion in classroom performance as it is in the competitive arena. Much of the credit for our high-achieving student-athletes goes to the program's academics unit: Kelly Jean Brock, associate athletics director and director of the Hartley Academic Resource Center (HARC); Ashley Kuhn, assistant director of the HARC; Monica Estes, athletics academic coordinator; and Dr. Thomas Roberts, faculty athletics representative; along with the staff and students who assist them.
Also pivotal to that success are the men and women who do the personal, grassroots recruiting of quality students who also happen to run, throw, shoot, hit, kick, swing, spike, serve, swim, dive and catch better than most. These are the head and assistant coaches who try to convince student-athletes and their families that FGCU is the right place to grow, learn and prosper. Skilled recruiters, these athletics leaders are also adept at dealing with unforeseen circumstances and adversity – part of the winning-and-losing aspect of their jobs. They're experts at adjusting on the fly.
And let's face it: With the COVID-19 pandemic freezing much of life as we have known it, college admissions counselors everywhere are dealing with a new challenge in reaching students as the fall semester approaches, especially with the uncertainty of campus availability. Academic recruiters can use all the help they can get, especially from student recruiters of a different sort who can hit the ground running.
And so we have the latest example of interdepartmental teamwork blossoming at FGCU: Athletics offering its services to Admissions to create a bigger, stronger team that can spread Eagle love further and farther in a game where everyone at the university ends up a winner.
"During these unprecedented times, it is imperative that we all work together to support current and future students in their pursuit of an academic degree," said Mitch Cordova, vice president of Student Success & Enrollment Management. "(SSEM) has always enjoyed a very close relationship with Intercollegiate Athletics in helping create a positive, exciting environment for our student-athletes and our student body as a whole.  This partnership in helping FGCU yield incoming freshman students this fall is another great example."
While Admissions is grateful for the help, make no mistake that FGCU was – and still is – on a continuing path to sustained student-enrollment and retainment prosperity, a student success initiative started long before coronavirus. Since Cordova departed as professor and dean of the Marieb College of Health &Human Services to take on his new role in March 2018, the initiative he leads — guided by FGCU's strategic plan — brings together all university programs and services that impact the student's campus experience and supports their academic program pursuits.  It starts with the admissions process and ends with helping students graduate in four years, if possible.  The comprehensive organizational division of SSEM comprises 13 total departments across three units.
"Challenging times call for us to be innovative in how we continue to achieve our objectives and goals," he said.
And that's why Cordova is more than happy to accept FGCU Athletics' offer to help as needed and share the court … or more appropriately, share the courting process.
"What better way to help convince a prospective student to attend FGCU than to have one of our tremendous coaches help them make a decision to attend here?" Cordova said.
As Cordova points out, FGCU Athletics and Admissions always work together closely in the best of times. What makes this enhanced partnership unique is that you normally wouldn't have, for example, the head men's soccer coach at a Division I university personally reaching out to a prospective biology student, which is exactly what FGCU's Jesse Cormier did.
"She was choosing between us and a Power Five conference school and had to consider the finances and distance," said Cormier, who has led FGCU men's soccer since 2017. "She was very interesting and would certainly be a dynamic member of our campus community. I also had a great call with a dad who commented, 'Great timing … we were just discussing FGCU, and my son is making his decision this weekend.' I was able to help answer some questions and concerns."
Cormier gets credit for coming up with the idea to extend a hand to Admissions, noting "a fellow coach said it was a very effective strategy for his school at times through the school year."
Befitting a competitive coach, Cormier says he feels "strongly that we are a teamat FGCU. It doesn't matter what our area of expertise is. We are all here to serve the campus community. If we all come together and work with and for each other, nothing can stop us … not even this pandemic."
He also feels FGCU has an obligation to provide leadership in the greater community during this time of crisis. "How can we become more unified?" Cormier wondered. "How can we learn and become a stronger, more resilient community … show everyone that, number one, we care about everyone, and number two, take this unique opportunity to adapt and evolve into something even more efficient and effective?
"Who can we be … and who are we goingto be in this moment? Time to step up, in my opinion."
One of those who has the knowledge and experience to "step up" is Donnie Marsh, associate head men's basketball coach. With a 40-year resume compiled at several schools, Marsh joined head coach Michael Fly's staff two years ago with a reputation as one of the nation's top recruiters. And during one of his coaching stops, at Franklin & Marshall, Marsh also had the dual role of associate director of admissions.
Marsh made it a point to immediately compliment FGCU Admissions for doing an "exceptional job" identifying quality applicants.
"I know how critical the 'yield' is (the percentage of students who commit out of the number admitted), so our job was to help close on as many of those accepted as possible," Marsh said.
"My approach was a little different from what I do during (basketball) recruiting, because I would have spent a lot more time getting to know a recruit and the people who connect with that recruit who might be influential in the final decision," Marsh said. "But what is common in both situations is highlighting the many reasons a student or student-athlete should want to attend FGCU. Something I say to every player I've ever recruited is, 'Pick a place where, if you couldn't play basketball again for whatever reason, you would still enjoy being on that campus and in that environment.' That's an easy sell at FGCU."
When competing with other schools for a student's commitment, Marsh says he emphasizes selling his institution, as opposed to comparing it with others. "My philosophy has always been if you're spending too much time discussing other places, you must not have that much to say about your own," he said.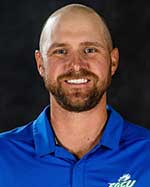 When it comes to having plenty of great things to say about FGCU, few take a back seat to Andrew Danna, head men's golf coach — even though Danna's first academic year as a member of the Eagles staff has been more rough than fairway in the course of life, thanks to the NCAA competition cancellations COVID-19 has forced.
"I think it's very important that our prospective student-athletes get a feel for our university as a student first and foremost," said Danna, who in 2018 led Lynn University in Boca Raton to the Division II national championship before spending a year as an assistant at Louisiana State University. "The goal is for every FGCU student to have a remarkable and meaningful experience while receiving their degree."
As a relative newcomer, Danna offers a fresh view of FGCU that we can all take pride in. "FGCU is such welcoming atmosphere, from my perspective," he said. "The faculty and staff are great and truly care about the student body. They put a lot of effort into seeing the success of our students. Our campus and facilities are absolutely beautiful. Also, FGCU has a very profound impact on Southwest Florida, which is a result of so many qualified candidates graduating year after year from FGCU."
The enthusiastic responses to promoting FGCU beyond the sports program by Cormier, Marsh, Danna and other coaches and Athletics staff members isn't lost on their boss, director of athletics Kavanagh. In crediting Cormier for getting the proverbial ball rolling, Kavanagh said it was "heart-warming to see how many of (Cormier's) coaching peers, administrators and support staff jumped right on board."
Kavanagh himself helped reach out to accepted students throughout the country, and the three-time national Athletics Director of the Year as voted by his peers said he "took a strategy to take all the kids from my home state of Connecticut."
"To my amazement, we had roughly 100 Connecticut admits," said Kavanagh, who became FGCU's second-ever permanent AD in 2009. "I thought I could best relate to (them) and reinforce what a tremendous location Southwest Florida is to spend the winter months getting a quality education with such wonderful facilities."
Kavanagh, who said his normal role in recruiting primarily entails meeting with student-athlete prospects and their families during on-campus visits, found this to be a "very enjoyable experience, relaying to others desired information about FGCU and serving as a bridge to Admissions in as best a fashion as possible." He even noted how his coaches, who are "very competitive," used the partnership as "additional motivation to try to outperform their peers in a fun exercise."
Of course, at the end of the day, the measure of success is how many accepted students commit. And Kavanagh related one instance he calls a "heart-warmer."
"Working with Dr. Lisa Johnson (associate vice president of Enrollment Management), we were able to work things out for a young man from Long Island who was appealing his financial aid scholarship decision, but really wanted to follow in his brother's footsteps," said Kavanagh, relating that the brother just graduated from FGCU's PGA Golf Management program. "It was great to hear that things have worked out."
Things indeed "worked out" for that student, James Petter, who told NBC2 in Fort Myers in a recent interview he was torn between FGCU and Albany, but it "felt more personal to have someone of (Kavanagh's) caliber calling me."
But Petter's dad, Ken Petter, related the true impact of Kavanagh's personal call in a voice message he left for the AD.  "Dr. Johnson really came through," Ken Petter said. "She got James a scholarship, James has committed, and he is coming down and his bringing his good high-school buddy with him.
"I don't doubt that if you hadn't called us, that might not have happened," the elder Petter told Kavanagh.  "From the bottom of my heart, I want to thank you so much for making me so happy, our family so happy, and even our son's friend's family so happy. We really appreciate it. We are so grateful … you really saved the day."
Not only did Kavanagh help save the day, but so did his Athletics teammates.
"I am really proud that we had 38 coaches and staff from Intercollegiate Athletics so eager to step up and immediately help us in any way they could and, quite frankly, in any way we asked them," Cordova said. "That's a testament to their deep commitment to our wonderful university."
And exactly where is the "commitment" Cordova talks about focused?
"Student success is why I work in higher education," golf coach Danna said. "Watching our students and student-athletes achieve their dreams at FGCU is truly a great thing to see."