While Americans everywhere are stitching together homespun solutions to the shortage of safety masks for themselves and others, Florida Gulf Coast University students and faculty have been harnessing modern technology to help healthcare heroes and curb the spread of coronavirus in Southwest Florida. Using 3D printers, they're fabricating clear plastic facial shields that are already being used to protect those on the front lines from airborne hazards.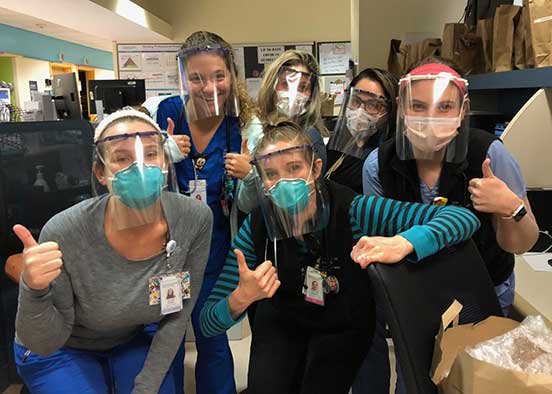 Scott Presbrey, who's pursuing an FGCU bioengineering degree so he can design and manufacture medical devices that improve people's lives, is printing, assembling and donating hundreds of facial shields while self-isolating and continuing his classes online in his Fort Myers home.
This enterprising Eagle isn't flying solo in the 3D vanguard to stop the virus's spread. Adam Nowicki, set to graduate next month with a master's in curriculum and instruction/educational technology, also is 3D-printing masks while juggling his own final coursework, teaching technology classes remotely for Dr. Mona Jain Middle School in Bradenton AND homeschooling his own three children. Talk about multitasking.
One of Nowicki's last two classes at FGCU is, appropriately enough, educational technology professor Michele Stork's "Teaching in Virtual Settings" course. Stork herself is also in the thick of 3D production while continuing to teach online at home. She's using a College of Education 3D printer to make mask extenders that help alleviate pressure on the back of the ears from wearing protectors for extended periods of time.
"Many of the nurses I've spoken to are experiencing ear and head pain because of that," said Stork, whose has a brother and a sister-in-law employed as nurses at Health Park in south Fort Myers.
Family on front lines
Like Stork, Presbrey was inspired to step up production by family connections in health care. Tom Presbrey, his father, is president of Florida Radiology Consultants and a director of radiology for Lee Health. After the elder Presbrey got his first call to do a procedure on a COVID-19 patient experiencing kidney failure, the son was inspired to ramp up production.
"On his way out the door, he grabbed one of the first face shields I printed a few hours before," said Scott Presbrey, who normally uses his four highly modified printers to fabricate three-dimensional products for 3DDeluxe.com, the one-man business he launched last summer. He balances e-commerce with classes toward his second bachelor's degree; his first was in systematic theology.
"After abandoning my pursuit of medicine in my second year of medical school, I fell in love with 3D printing, which really catapulted me to my current pursuit of bioengineering," Presbrey said.
After the chief quality and patient safety officer for Lee Health tested and approved Presbrey's shields, which are easy to assemble and sterilize for reuse, Presbrey donated more than 200 to Lee Health facilities across Lee County. Others went as far away as Yale Hospital in Connecticut. Radiology Regional, which has locations throughout Southwest Florida,  purchased 330 at a little above cost, which helped fund materials for the donations.
"I am overwhelmed by the positive response and demand for these shields," Presbrey said. "They are fully plastic with no porous material to collect bacteria, and they are assembled with a three-hole punch and overhead transparencies or acrylic. There is room to wear an N95 mask beneath them, and they do not fog like some commercial options.
"I am running four printers around the clock while I self-isolate, making between 120-150 per day. I have family who work on the front lines, and I know they are in desperate need."
Up in Bradenton, FGCU grad student and former employee Nowicki had made about 1,000 shields as of last week with help from his family and donated most to healthcare facilities and nursing homes in Manatee, Sarasota, Hillsborough and Pinellas counties. One shipment went to a New Jersey hospital after emergency-room workers there found him through social media, and another went to the West Coast.
Along the way, Nowicki has inspired many others with 3D printers or supplies to join the anti-COVID campaign. In spite of having his hands full with teaching and learning, he even found time to produce a two-part YouTube tutorial on his production process.
"In Manatee County alone, we have 10 schools who jumped in to help by either making them, too, loaning out 3D printers or donating filament and supplies," Nowicki said. "Other people in various parts of the state have jumped in, too, and that was the whole point — to get as many people as possible to join in the fight. Our healthcare workers need us."
Online communities join in
The shortage of medical-grade protective supplies locally and globally has spurred many engineers and companies around the world to design and make facial shields and masks for healthcare workers. Like Nowicki, Presbrey became aware of open-source templates that have been released online for people to join in the worldwide effort to mitigate the scarcity of personal protective equipment (PPE). Through grassroots-level 3D printing, they're "bringing manufacturing into households, cutting out middlemen and saving time and money," he says.
"A shortage of PPE during a pandemic could wipe out our already stressed healthcare system," Presbrey says. "This would increase the number of deaths in the public. We need them to be healthy not only for themselves but for us, too. My father confirmed my suspicions that we are running low of PPE locally as well, so I offered to manufacture as many face shields that I can while I self-isolate.
This quickly took off, and I received requests from several physicians."
Presbrey prints the thin, hard plastic frame that wraps snuggly around the head, then snaps on a sheet of semi-rigid clear plastic that provides a full facial barrier protecting the mouth, nose and eyes, which are especially vulnerable to airborne viruses. His mother, Laurie Presbrey, helps out cutting the corners of the clear transparencies, and both of his parents distribute them to healthcare workers in need. Presbrey's approaching the effort as service-learning, demonstrating that students can indeed continue volunteering while taking classes remotely.
Each shield costs only about 36 cents to produce, Presbrey estimated, but production is limited by surging demand for supplies of printing filament and plastic sheets.
"Thin acrylic or uncoated overhead transparencies work well, but we are having a difficult time getting more transparencies quickly," said Presbrey, who launched a GoFundMe campaign called Faceshields for Lee to raise money for supplies.
In the meantime, he's also getting involved in e-NABLE, an online global community of "digital humanitarian" volunteers using 3D printers to make free and low-cost prosthetic limb devices for children and adults in need. He hopes to establish an FGCU chapter of the organization, and welcomes fellow students to contact him via email if interested in getting involved.
Nowicki, who was featured on Sarasota-based WWSB-TV News' "Suncoast Strong" segment, has inspired his own digital humanitarian network. He started printing face shields out of his own pocket, but as more people became aware of his efforts some sent him gift cards to purchase materials like laminating sheets and plastic filament. The spirit of community and the real prospect of helping stop the virus's spread fuel his desire to persevere.
"Our country needs us, and we are all in this together," Nowicki said. "Everything we're doing is potentially saving a life."