Scientists, economists, health professionals, activists and residents have shared their thoughts about Southwest Florida's ongoing struggle to maintain its water quality. Now, a new collaboration between Florida Gulf Coast University's theatre and music composition students is reminding the community of the power and myths surrounding this natural resource.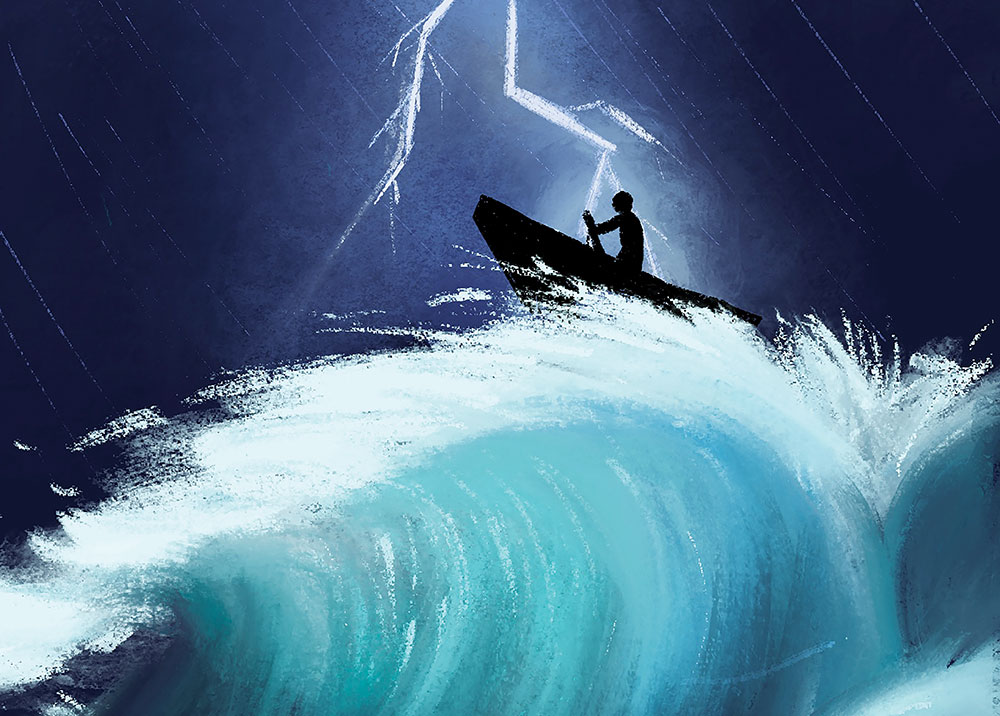 Earlier this year, Associate Professor Gerritt VanderMeer of the theatre department approached Assistant Professor Jason Bahr, who teaches music theory and composition, to propose that Bahr's composition students team up with his Creating New Theatre students for a timely project now called "Water Stories."
"He said, 'Let's write pieces – both musical and theatrical – that have to do with water and myths about water,'" Bahr says. "It gives students an opportunity to look at their creativity from a different perspective."
VanderMeer says the format of the class – seven groups with two theatre and one composition student in each — has given participants the opportunity to adapt and learn from one another's points of view.
"Any creative project is a journey," VanderMeer says, "so you very quickly get into uncharted territory, you very quickly get out of your comfort zone."
Each student group chose its own water-related theme at the start of the semester. Although the course was formed in part to complement FGCU's new Water School, the groups chose to stay away from the topic of local water quality.
Julian Grubb, a third-year music education major, says his group is focusing on frogs, based on his unique family tradition that celebrates swamp creatures. He says he appreciates the opportunity to work with theatre students on a composition that will be used in a theatrical performance, instead of writing music for a traditional concert performance.
"It's really interesting writing for more of a narrative style, rather than just having ideas," Grubb says.
Peter Noll is another composition student who says he is learning a lot from the collaboration.
The third-year music performance major says this project is helping him gain a better understanding of what composing can be like in the music industry, where new points of view from different stakeholders come into play at all stages of the writing process, and composers must be flexible. He says it has been exciting to work on a project involving water, which has been an important topic in recent news.
"Water is an essential part of FGCU from both an educational and environmental standpoint," Noll says. "This project is an example of how the arts can get involved."
Noll's project will feature two actors performing as boaters stuck on the ocean during a hurricane.
Both Grubb and Noll are members of FGCU's Composers Guild, a group made up of about 12 students who work together to improve their music composition techniques, learn from professional composers like Bahr, and give back to the community through pop-up concerts, which Bahr calls "music happenings."
While the composition students premiered their "Water Stories" pieces in an October concert featuring only the music, the theatre performances with pre-recorded music will be performed on campus Dec. 6 through 8.
The music will be recorded by professional musicians, who were hired with part of a $5,000 FGCU Scholarship-Research Venture Capital Fund grant VanderMeer and Bahr secured to help run the course.
Because the holiday season is a busy time for musicians, Bahr says recording the music in a high-quality way beforehand was essential to completing the December theatre performances.
Some of the grant funding has also gone to purchase special theatre equipment, such as lighting gels, shadow screens, costumes and other items VanderMeer says will improve the production value of the performances.
Excerpts of two of the performances — the two that Grubb and Noll are involved in — will be shown during FGCU's spring Research Roadshow, elements of which focus on water.
Bahr is excited to have the pieces incorporated into the Research Roadshow because it will help expose the student work to new groups that might never have been to a musical or theatre performance on campus.
Both professors are interested in continuing to create new, collaborative courses.
"This is fantastic," Bahr says. "This is a broader perspective on our music, and we're getting people who aren't necessarily musically trained, and of course our composers aren't theatrically trained, and those collaborations can add insight into the ideas that we have."
"We're learning so much this first time," VanderMeer says. "So far it's been a lot of fun."
One thing VanderMeer wants attendees of the December performance to appreciate is the originality of each performance.
"Every single piece is completely original," he says. "The students are very much the driving force behind the creativity."
---
IF YOU GO
Shows: 7:30 p.m. Dec. 6 and 7 and 2 p.m. Dec. 7 and 8
Discussion: With the cast and crew after the 2 p.m. Dec. 7 show
Tickets: $10 for the public, $7 for students
Purchase: Online at fgcu.edu/cas/bsma
---