It might take time before Seneshaw Tsegaye realizes his dream of boiling down the sprawling, 30-foot-long research project that sits in the gated backyard of the Emergent Technologies Institute to a size compact enough to fit under a kitchen sink.
But given the potential of the Water-Energy-Food (WEF) Nexus System undertaking that started about a year ago, it seems that Tsegaye and a team of fellow engineering faculty and several undergraduate students are pursuing something special at the research-and-development hub a few miles northeast of the main Florida Gulf Coast University campus.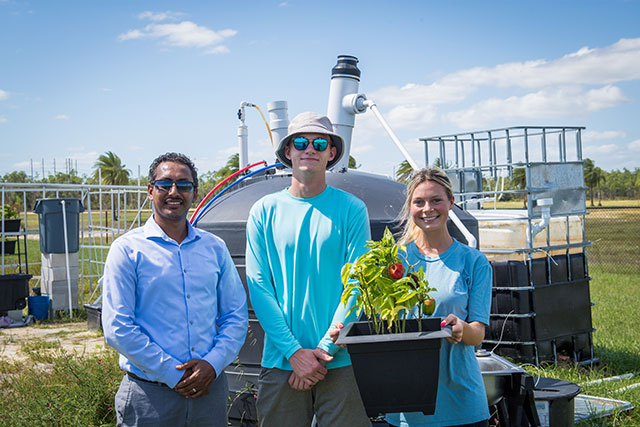 At the very least, their WEF initiative appears to be the perfect FGCU research project — a confluence where sustainability and ingenuity meet for what could become a lifestyle gamechanger. The integrated WEF system turns solid waste and wastewater into both a biogas energy source that can substitute for propane, and into nutrient-rich, recycled water for fertilized irrigation.
In other words, the FGCU engineering team is working to convert your garbage into sustainable gold.
"The population is increasing, resources are depleting, so we need to find smart solutions," said  Tsegaye, an assistant professor of environmental and civil engineering with the U.A. Whitaker College of Engineering. "One is to use waste as a resource, rather than dump it into the environment."
In the simplest terms, the WEF setup of plastic drums, pipes, hoses and containers is designed for solid and liquid waste to be fed into a typical in-sink garbage disposal that grinds and mixes the refuse and pipes it into the biogas digester, a large plastic drum containing microorganisms that decompose the trash. The biogas that's produced rises to the top of the drum and the overflow is stored in a collector, while the nutrient-rich liquid is diverted to a hydroponic setup at the end of the cycle.  In the working ETI model, the biogas is used to power an attached propane grill while the liquid fertilizer feeds a series of plant pods in a hydroponic tower.
"It's a simple system that anyone can build in the backyard," Tsegaye said. "The students themselves built this system, cut and fit the pipes … they have done amazing work for this project. Students have learned so much from this puzzle. It's a great educational platform."
Tsegaye came to FGCU two years ago with an extensive research resume focusing on sustainable water management and building resilient communities. His previous job was as a visiting assistant professor in the Patel College of Global Sustainability at the University of South Florida, where he served as director of the Climate Change and Sustainability concentration. He calls his close friend and former USF colleague Thomas Culhane of the Patel College an "external partner" in the WEF project, while internal collaborators are ETI staffers Christian Bokrand and Peter Michael and FGCU environmental and civil engineering professors Jong-Yeop Kim, Simeon Komisar, Tanya Kunberger and Janusz Zalewski.
The project also has earned financial support from Communities in Transition and the Faculty Scholarship Enhancement Initiative, along with "fuel" support from the Naples Coastal Kitchen restaurant, which furnishes its food waste to feed the system.
"I have worked at many universities, and one thing I see at FGCU is that opportunities are real," Tsegaye said. "If you have a new idea, people help you implement it."
Kunberger and Zalewski are coordinating the back ends of what essentially is a threefold project, with Kunberger and her student team performing an input-output characterization of WEF systems, while Zalewski and his future software engineers develop a simulated WEF model in the VIPER Lab in Holmes Hall to evaluate how adjustments in the waste input affect the energy-fertilizer output.
Kunberger points out the value for undergraduate students of conducting interdisciplinary research such as this. "The project blends students nearing graduation with those just starting their academic journey; connects civil, environmental and software engineering majors; and merges lab, virtual and field testing in a research focus area relevant throughout the world," Kunberger said. "Robust educational experiences such as the WEF project ensure FGCU engineering students are prepared to solve the challenges of tomorrow."
In the spirit of interdepartmental collaboration, Zalewski explained how the "development of software for the WEF project is a meaningful step toward integrating the research activities in environmental engineering with those in software engineering, which strengthens the depth and expands the scope of the overall research efforts."
Zalewski added, "At the same time, the work on the project contributes significantly to students gaining practical experience in the areas of virtual reality and cyber-physical systems, which prepares them better for entering the job market."
About a dozen FGCU undergraduate students have been working on the WEF project since its beginning, with the current team consisting of engineering majors Garrett Chapman, Christian Falconi, Amy He, Alisha Perez, Maximilian Honigfort and Kaylei Kambak.
Honigfort, a civil and environmental engineering major who's originally from Germany and attended Barron Collier High School in Naples, has been working on the WEF project since last summer. "Research is a brand-new experience for me, and I get to work with a lot of the professors I have classes with," said Honigfort, who said he spends at least 10 hours over three days each week doing onsite and online research for the project. "I've learned a lot of things I otherwise would not have learned in a classroom setting."
Kambak, a sophomore from St. Louis, said she visited a lot of colleges that felt "too big and overwhelming" before finding the FGCU campus, which was "perfect for me."
"I really like the connections I've made with professors and students," she said. "I get to work with upperclassmen as my mentors, and get involved with something important like this at such a young age."
Kambak said she originally wanted to study marine science, but switched to environmental engineering because she "wants to be part of making change in the world." In this case, if
Tsegaye realizes his dream with the help of his FGCU student researchers and faculty colleagues, "change" will be a miniature recycling system in the cabinet under your kitchen sink that not only pulverizes your orange peels and wilted lettuce, but powers your oven.